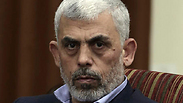 Hamas leader admits Marches of Return were staged to avert internal crisis
Gaza's terror head Yahya Sinwar says weekly violent marches were used to divert pressure onto Israel and prevent an 'internal explosion' after reconciliation efforts with Fatah were 'sabotaged'; Sinwar also clarifies no ceasefire agreement reached with Israel.
Gaza's Hamas leader Yahya Sinwar openly admitted on Tuesday that the weekly "March of Return" protests staged on the Gaza border in recent months were intended to avert an internal crisis and divert pressure onto the Israelis.

"After the reconciliation efforts (between Hamas and Fatah) reached an impasse, a number of factions planned to cause an internal explosion in the Gaza Strip, but the Marches of Return thwarted the plan," Sinwar said during a Hamas conference in the coastal enclave.




"Palestinian officials collaborated with Israeli intelligence in order to sabotage the reconciliation efforts," he claimed.

Sinwar also said that no arrangement has been reached with Israel to put an end to daily hostilities, despite the quiet that has prevailed on the volatile border in recent days.

"I will state clearly: So far there is no agreement and no outline for an agreement for a ceasefire with Israel," the terror leader said.

In August, it was reported that Israel and Hamas had reached a ceasefire under Egyptian mediation, as Israelis living in the south urged the government to stem the daily launching of incendiary balloons and near-daily barrage of rockets that threatened to drag the two sides into yet another conflict.

"Gaza did not want to to stand idly by when the American Embassy was transferred to Jerusalem," Sinwar explained. "The Palestinian people succeeded in turning this provocation into an opportunity to confront the Israeli enemy."

Sinwar heaped praise on the Gaza residents, saying "our people create a means of pressure, like the incendiary balloons, and they write the history of those under siege in Gaza, who have nothing, and they cause Israel to think again."

Telling his listeners that Hamas was not seeking war, and was instead interested in maintaining the ceasefire reached in 2014 at the end of Operation Protective Edge, Sinwar emphasized that "we are ready to fight off any aggression."

Sinwar addressed rumors circulating about possible solutions to the crisis gripping the Gaza Strip.

"Anyone who thinks there is a discussion about an airport (in Sinai), does not know anything. The discussion at the moment is about a maritime route between the Gaza Strip and Cyprus and about finding a systematic solution to the problem of UNRWA," Sinwar attempted to clarify.

Sinwar also turned to UN Mideast Envoy Nikolay Mladenov. "Your role has changed from the United Nations envoy for the peace process to the UN envoy to prevent war," Sinwar said.

"As the pressure on resistance increased, so did the intermediaries. Mladenov came to Gaza twice a day during the recent escalation and not he hasn't been to Gaza in weeks," he complained.