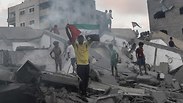 Destruction in Gaza
Photo: MCT
Report: Ceasefire reached between Israel and Hamas
Truce mediated by Egypt goes into effect at 10:45pm on Thursday evening, after 24 hours of hostilities, with nearly 200 rockets fired from Gaza at Israel and the IAF attacking over 150 targets in the strip; Gaza source confirms ceasefire, Israeli sources deny it.
Israel and Hamas have reportedly reached a ceasefire under Egyptian mediation, which went into effect at 10:45pm Thursday, according Al Jazeera.
A source in Gaza confirmed the ceasefire to Ynet, while two Israeli officials denied a truce had been reached, in line with Israel's policy of ambiguity.
An Israeli official said Hamas has been asking for a ceasefire since Thursday morning, but the IDF continued attacking significant targets.
Hamas' Al-Aqsa TV channel reported late Thursday that a ceasefire has taken hold "on the basis of mutual calm." It said the deal was mediated by Egypt and other regional players.
A senior Hamas official, speaking on condition of anonymity because he was not authorized to speak to the media, said the deal would formally go into effect at midnight.
He said the agreement merely ends the latest two-day burst of violence between Israel and Hamas and added that Egypt would continue efforts to broker a long-term cease-fire.
Sderot Mayor Alon Davidi said Friday that the reported ceasefire is a mistake.
"I understand the desire of the government to enter into negotiations, but Israel must end the terror with military assistance. This on and off war is unhealthy," Davidi said.
Over 180 rockets have been fired from Gaza over the past 24 hours, with the IDF retaliating with heavy bombardments in the strip, destroying a 5-story building, as well as several terror tunnels, military complexes and other targets.
At least seven Israelis were wounded from the Gaza rockets, with one landing as far as Be'er Sheva. Mortar shells and rockets also hit the entrance of a residential home in Sderot, a house in Hof Ashkelon Regional Council and a building in an industrial zone of the Sha'ar HaNegev Regional Council. The Iron Dome intercepted at least 30 rockets.
Palestinian officials said at least three people were killed in the Israeli attacks: Hamas fighter Ali Ghandour, 23-year-old Enas Khamash, who was pregnant, and her 18-month-old daughter Bayan. At least five civilians were wounded. Gaza's Health Ministry said the militant and the civilians were killed in separate incidents.
Prime Minister Benjamin Netanyahu held security consultations with Defense Minister Avigdor Lieberman, IDF chief Lt. Gen. Gadi Eisenkot, Shin Bet Director Nadav Argaman and head of the National Security Council Meir Ben Shabat ar the Kirya IDF headquarters in Tel Aviv on Thursday afternoon.
Following the consultations, a government official said that "Hamas has suffered a serious blow. Israel will continue acting with strength."
According to the official, the prime minister and defense minister instructed the IDF to prepare for any scenario.
Channel Ten said Netanyahu delayed the Security Cabinet meeting that followed these consultations by two hours to allow the Egyptians to press forward with their mediation work.
After a four-hour meeting, the Cabinet issued a short statement, saying it had directed the army "to continue taking strong action against the terrorist elements." It did not elaborate.
Lt. Col. Jonathan Conricus, a military spokesman, said Israel had "ground troops that are ready to deploy. We are reinforcing the southern command and Gaza division." He wouldn't comment on Israeli media reports of troops preparing for a possible ground operation.
Israel and Hamas have fought three wars since the Islamic militant group seized control of Gaza in 2007. Despite the animosity, the enemies have signaled—through their contacts with Egypt—that they want to avoid another war.
Hamas is demanding the lifting of an Israeli-Egyptian border blockade that has devastated Gaza's economy, while Israel wants an end to rocket fire, as well as recent border protests and launches of incendiary balloons, and the return of the remains of two dead soldiers and two Israelis believed to be alive and held by Hamas.
At the United Nations, Israel's ambassador, Danny Danon, urged the secretary-general and UN Security Council to condemn Hamas militants for what he called "the unprovoked terrorist attack" on southern Israel.
Nickolay Mladenov, the UN Mideast envoy, said he was "deeply alarmed" and appealed for calm. He said the situation "can rapidly deteriorate with devastating consequences for all people."
In Washington, State Department spokeswoman Heather Nauert said US officials were concerned by the situation in Gaza.
"Overall, we condemn the launching of missile attacks into Israel, and call for an end to the destructive violence. We've seen reports that 180 or so rocket attacks have taken place, shot from Gaza into Israel, and we fully support Israel's right to defend itself, and to take actions to prevent provocations of that nature," Nauert said.
Tension along the Israel-Gaza border has escalated since late March, when Hamas launched what would become regular mass protests along Israel's perimeter fence with Gaza. The protests have been aimed in part at trying to break the blockade.
Israel and Hamas have engaged in several bouts of fighting this month. The latest round erupted Tuesday, when the Israeli military struck a Hamas military post in Gaza after it said militants fired on Israeli troops on the border. Hamas said two of its fighters were killed after taking part in a gunfire parade inside a militant camp.
The incident occurred while a group of senior Hamas leaders from abroad were visiting Gaza to discuss the ceases-fire efforts with local leaders.
A top Hamas official told The Associated Press that the group waited for the delegation to leave Gaza before responding with rocket fire late Wednesday.
The Associated Press contributed to this report.