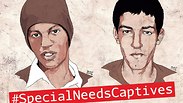 Avera Mengistu and Hisham al-Sayed
Muslims, Ethiopians call on Hamas to release captive civilians
Family members of Avera Mengistu and Hisham al-Sayed hold joint prayer service as they launch new international campaign to secure release of two Israeli citizens, said to be mentally ill, who have been held by Hamas for years since crossing into Gaza.
Muslims and members of Israel's Ethiopian community held on Thursday afternoon a joint prayer service, as families of two Israeli citizens languishing in captivity in Gaza called on the Hamas terror group to release them, insisting that they suffer from mental health problems.

Ethiopian-Israeli Avera Mengistu voluntarily crossed into Gaza in September 2014, as did Bedouin Hisham al-Sayed in April the following year.

Hamas has refused to release them ever since, despite efforts by Israel and international organizations.

The families have launched an international campaign demanding that the treatment of prisoners with special needs not be affected by political considerations.


Relatives of the captive citizens delivered speech against a backdrop of large posters bearing their faces, accompanied by the words #SpecialNeedsCaptives.

"My son is mentally ill, he crossed the border without knowing. I urge Hamas to come to your senses. Hisham entered Gaza twice in the past and Hamas returned him after they saw he was sick," said Al-Sayed's father, Sha'aban.

"They are tying Hisham and Avera to the Israeli-Palestinian conflict and it's not right. If international institutions were acting correctly, we would not be in all these conflicts," he added.

"We ourselves are related to the Palestinian people. There are familial ties between us and them. We are drawing a distinction between the Palestinians and Hamas. Hisham has no connection, and neither does Avera. There are medical documents proving that they are sick people with no connection to politics, the army or to soldiers. It is not logical that the Hamas organization is using them as a bargaining chip," the father complained.

Ilan Mengistu also spoke at the joint prayer service, recalling horrors that have accompanied the four years since his younger brother crossed the border.

"He went through a difficult mental crisis after the premature death of our brother, Michael. He was assessed and sectioned a few times in psychiatric hospitals," Ilan told those in attendance.

"Unfortunately, he was discharged before receiving the appropriate medical treatment. Avera crossed the border into Gaza as a helpless and mentally ill man," he added, before slamming Hamas.

"Hamas, instead of immediately releasing him as is required by international law, is holding onto him as a political card for political negotiations with Israel," he complained, reiterating that "a man with special needs in being held in captivity. How cruel."

Ilan then addressed his appeal directly to Gaza's Hamas leader Yahya Sinwar. "Behave like a human being and take into consideration the state of mind of my brother and the suffering of my family. Release Avera and Hisham today," he said as he concluded his remarks.

In November 2017, Mengistu's family addressed the UN at its headquarters in New York Monday, calling for international pressure to be exerted on the terror group to release Avera.