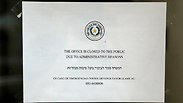 Paraguay closes embassy in Jerusalem
Photo: AFP
Sources: Paraguay was disappointed with Israel's behavior
Despite Israel believes Paraguay's decision to move embassy to Tel Aviv was due to Arab pressure, sources say Paraguayan officials' anger about Israel's behavior triggered decision; former Paraguayan president Horacio Cartes says 'Any nation that had turned its back on Israel, paid a very heavy price.'
Paraguay's decision to move its embassy back from Jerusalem to Tel Aviv was influenced by the Latin American country's disappointment with Israel's lack of mutuality, according to sources involved in the relations between the two countries.

The sources added that Paraguay's senior officials had fumed about the fact neither Prime Minister Benjamin Netanyahu nor other Israeli minister had visited their country, or expressed any gratitude after Paraguay had acknowledged Jerusalem as Israel's capital.

"Israel didn't invest anything in its relations with Paraguay. Netanyahu didn't visit, there were no delegations nor agreements signed. The Arabs invested funds (in Paraguay) or at least promised to," according to the one of the sources.

"Not much was required from us to maintain the relations, but Israel took it as granted," the source opined.

However, Israel believes that the decision was made due to Arab pressure and a promise of future investment deals in the country.

Two weeks ago several businessmen and heads of prominent organizations were requested to organize an delegation to the south American country by December.

The Israeli flag was taken down Thursday from the building of the Israeli Embassy in Asuncion a day after the Latin American country had announced its decision to move its embassy back from Jerusalem to Tel Aviv.

In the wake of Paraguay's decision, Turkey announced it would open its embassy in Asuncion. Turkey's ambassador to Paraguay has been operating out of Buenos Aires. Turkey has a consulate in Asuncion and another in Ciudad del Este, Paraguay.

"By opening the embassy, Turkey is expressing support for Paraguay's stance on Israel," Paraguay's Foreign Minister Luis Castiglioni told reporters.

Former Paraguayan president Horacio Cartes who decided to move its diplomatic mission in Israel to Jerusalem from Tel Aviv, slammed his successor President Mario Abdo Benitez's decision to return the embassy to Tel Aviv.

"The Jewish-Christian values have been betrayed," said Cartes who had travelled to Israel to inaugurate the Paraguay Embassy in May.

Cartes added, "Today a friend was betrayed, the Paraguayan people's will and stance were betrayed.

"The friendship between Paraguay and Israel was betrayed. Any nation that had turned its back on Israel, paid a very heavy price," the former president elucidated.

Jerusalem swiftly responded when Prime Minister Benjamin Netanyahu ordered to shut down the Israeli Embassy in Asuncion.

Israeli Ambassador to Paraguay Ze'ev Harel had to leave hastily his residence in the country. He posted a picture of him riding a horse as a metaphor for his departure.

"I would like to thank you from the bottom of my heart without addressing any political issue," Harel wrote on his Facebook page.

"Unfortunately, I have to leave Paraguay unexpectedly. You know why.

"I had a wonderful year here and I've enjoyed every minute of it. My soul is tied to Paraguay. It pains me. I love Paraguay and pray for good things to come," the Israeli envoy concluded.

An official from the Paraguayan Embassy was not surprised by the new president's decision to move back the embassy to Tel Aviv. The official also revealed that the lease of the embassy in Jerusalem allowed early termination.

Benitez announced he would not close the Paraguay Embassy in Israel.

"I regret Israel's decision. The reaction of closing the embassy was a little exaggerated and we urge authorities to reconsider it," Benitez said at a news conference in Itapua, 273 miles (440 kilometers) south of Asuncion.