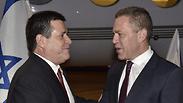 Erdan welcomes Cartes to Israel
Photo: Shlomi Amsalem
Paraguay president inaugurates Jerusalem embassy
'Moving the embassy is the right thing to do,' Paraguay's President Cartes tells President Rivlin ahead of ceremony, adding: 'I feel at home in Israel'; Netanyahu tells Cartes at opening ceremony: 'You're an amazing friend to Israel'; Palestinians blast 'illegitimate, illegal decision,' say it's a concession to US, American dictates.
Paraguay's President Horacio Cartes inaugurated his country's new embassy in Jerusalem on Monday, following the same move made by the United States and Guatemala.

Prime Minister Benjamin Netanyahu attended the inauguration ceremony at the Malha Technology Park, near the new Guatemalan embassy.

"It is an honor for me to be here today," Paraguayan President Cartes said at the ceremony. "The opening of the embassy holds special meaning, because it expresses the sincere friendship and the brave solidarity between Paraguay and Israel."

"I don't like binding or ambiguous positions. Our friendship is based on shared values, such as democracy, tolerance and dignity, lack of discrimination and peaceful coexistence," Cartes added.

"This is a historic day that strengthens ties between Paraguay and Israel," he continued.

"A great day for Israel. A great day for Paraguay. A great day for our friendship," Netanyahu responded. "You have not only the support of our government but the profound gratitude of the people Israel."

"Paraguay helped the Jews escape Nazi Germany," the prime minister said of the historic bond between Paraguay and the Jewish people. "We will never forget it. You did it before, during and after the Holocaust. It was an expression of compassion and generosity that will always be etched in our hearts. Paraguay also supported the establishment of the State of Israel and recognized Israel at the UN. We won't forget that, either."

"You're an amazing friend to Israel," Netanyahu told Cartes. "Under your leadership, Paraguay made courageous moves in the international arena and refused to take part in the lies against Israel. It's time we do a lot more together and increase the cooperation between us. We've been discussing water, agriculture, security, and we are doing and want to do more. And we will."

The Palestinian Foreign Affairs Ministry denounced the opening of the Paraguayan Embassy and said it was an illegitimate, illegal decision.

"This constitutes aggression towards the Palestinian people and their rights, as well as a violation of UN resolutions and international law. They are merely fulfilling the dictates of Israel and the United States," the ministry's statement said.

Prime Minister Netanyahu and President Cartes held a private meeting following the embassy ceremony.

Earlier Monday, the Paraguayan president met with Israel's President Reuven Rivlin.

"Paraguay is thousands of kilometers away from Israel, but our hearts are close," Rivlin said. "For over 70 years, Paraguay has been a true friend of Israel, and indeed we mark 70 years to Israel and to the establishment of diplomatic ties between us."

Rivlin added that he was confident many other countries will follow Paraguay's example in moving their embassies to Jerusalem.

"The close ties between the countries have strengthened over the years thanks to cooperation in the fields of export and trade, agriculture and security," he added.

President Cartes, who will be leaving office on August 15, said "This is my second visit to Israel as president, but now I'm sure I will visit more often—I feel at home in Israel."

"Many ask me why we decided to move the embassy to Jerusalem, and to that I can response: We're putting things in the right place. We don't owe you anything, and you don't owe us anything. This is the right thing to do," Cartes added.

Public Security Minister Gilad Erdan welcomed Cartes at Ben-Gurion Airport on Sunday night, telling him: "I thank you on behalf of the State of Israel for your decision to move the Paraguay Embassy to Jerusalem. The decision demonstrates the depth of our ties and constitutes further strengthening of our sovereignty in Jerusalem."

Erdan went on to say that "President Cartes' decision to move the embassy to Jerusalem is an important move that recognizes Israel's right to determine its own capital. He joins the US and Guatemala, and I have no doubt other countries will follow suit."

"The recognition of Jerusalem represents a change in the world diplomatic map: More and more countries support our positions and wish to bolster ties with us," he continued. "In recent years, Paraguay has proven with a series of courageous decisions that it is a true friend. I praise the president for his support of Israel and his leadership."

Paraguay is the third country to move its embassy to Jerusalem, following the United States and Guatemala. Last week, Guatemalan President Jimmy Morales was in Israel to inaugurate his own country's embassy in the capital, two days after the American embassy opened in Jerusalem.

The decision to move the embassy to Jerusalem has been controversial in Paraguay.

Last month, Cartes announced his intentions to move the Paraguay embassy from Herzliya to Jerusalem before the end of his government's term on August 15.

The Paraguayan president surprised attendees with the announcement at an event celebrating Israel's 70th Independence Day in Asunción. Among the invitees were Israel's Ambassador to Paraguay Ze'ev Harel, Cartes' successor Mario Abdo Benitez, the vice president-elect Hugo Velazquez, the country's foreign minister and other dignitaries.

Benitez has said he wasn't consulted about the embassy move.

Hanan Ashrawi, an official of the Palestine Liberation Organization, denounced Paraguay's move.

"By adopting such a provocative and irresponsible measure that is in direct contravention of international law and consensus, Paraguay has conspired with Israel, the United States and Guatemala to entrench the military occupation and to seal the fate of occupied Jerusalem," Ashrawi said in a statement.

Most countries maintain embassies in Tel Aviv and have balked at moving them until the international legal status of the city has been resolved.

Prime Minister Benjamin Netanyahu said in April that "at least half a dozen" countries were now "seriously discussing" following the US lead, but he did not identify them.

Reuters contributed to this story.