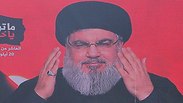 Hassan Nasrallah
Photo: Reuters
Nasrallah boasts Hezbollah has 'highly accurate' missiles
Addressing crowds in televised speech, Hezbollah leader delivers diatribe against Israel, saying its efforts to prevent precision missiles reaching his group through airstrikes have already failed; warns that in a future war with Israel, it will 'face a fate and a reality it never expected.'
The leader of Lebanon's Hezbollah terror group boasted on Thursday that the group possesses "highly accurate" missiles despite Israeli attempts to prevent it from acquiring such weapons.

Hassan Nasrallah spoke in a televised speech to supporters commemorating Ashoura, one of the most important religious holy days for Shi'ite Muslims.

Nasrallah says Israel knows the regional balance of power has changed, and that recent Israeli strikes in Syria to prevent Hezbollah from acquiring those weapons failed because this "has already been achieved."

Syrian President Bashar Assad's forces accidentally shot down a Russian military aircraft following a missile strike on the Syrian coastal city of Latakia that was immediately attributed to the Israel Air Force. Israel took responsibility for the attack shortly after.

He says Hezbollah now has "highly accurate ... missiles" and that, should Israel impose a war on Lebanon, "it will face a fate and a reality it never expected on any day."

Israel worries Hezbollah has been improving its capabilities and increased its strikes in Syria to prevent weapons shipments to the group from Iran.

"No matter what you do to cut the route, the matter is over and the resistance possesses precision and non-precision rockets and weapons capabilities," Nasrallah said, addressing Israel in the broadcast speech while claiming that he was not speaking from a bunker.

"They laugh at me and say I am threatening from a bunker. I am obviously not inside a bunker. I am in a specific place and the fact that I am here giving a speech proves that you are trying day and night to kill me and are only failing," he said.

"The Israelis are angry and worried that their efforts are failing," Nasrallah said at the opening of his remarks.

"They pinned their hope on what has happened in Syria and Iraq, but these delusions have shattered. They realize that the axis of resistance is stronger than ever. They realize that there are new states that have joined the axis of resistance, countries that were outside the conflict with Israel are today part of it," he added as he continued his one of many diatribes against Israel.

"Israel is scared of every war. They understand that a war against us will have numerous consequences in the region. Their weak points are exposed and they know about our strength," he declared.

According to Nasrallah, Israel is well aware of his organization's stockpile of precision missiles and has no solution.

"In 1973, the war was on the front at a time when people in Tel Aviv would drink coffee and read the papers. Now, everything is different. I say to Israel: be careful. Everything you have done up until this point is finished … Israel understands that war cannot be won with technology. The human element will decide the war," Nasrallah said.

"In 1982 Israel threatened to occupy Beirut. Who speaks about that today?" Nasrallah asked. "Since 2006 no Israeli has said 'we will invade Lebanon and get to Beirut' because such an operation requires ground forces. That cannot be done with an air force. Israel no longer has an army that can occupy land. Therefore, every Israeli threat focuses on the power of fire and not on the human power."

Hezbollah, backed by Iran, has played a critical role in supporting Syrian President Bashar Assad during Syria's seven-year-long civil war.

Iran's Revolutionary Guards helped form Hezbollah in the early 1980s to resist Israel's military presence in southern Lebanon, which ended in 2000. Israel and Hezbollah fought a brief war on Lebanese soil in 2006.

Reuters, Associated Press, Daniel Salami, Yoav Zitun and Itamar Eichner contributed to this report.