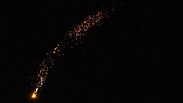 Missiles targeted several locations in the Syrian coastal city of Latakia on Monday but were intercepted and downed by air defenses, Syrian state media said.

The official SANA news agency said state technical industry institutions in Latakia had been targeted, adding they are likely the result of Israeli strikes on a state technical company.

Attack on Latakia

According to the Russian news agency Sputnik, the strike was intended to hit a warehouse storing drones and missiles.

The Lebanese Al Mayadeen news channel, the main site attacked was the Technological Industries Corporation.

Al Jazeera said that the missiles were fired from the sea, while CNN reported that according to TASS, the ministry of defense specified that "the mark of IL-20 went off the radars disappeared during the attack of four Israeli F-16 aircraft on Syrian targets in the province of Latakia."

Arabic Sky News quoted sources claiming that the missiles hit a base housing Iranian militias.

Israel has yet to comment on the incident.

"Air defenses have confronted enemy missiles coming from the sea in the direction of Latakia, and intercepted a number of them," SANA quoted a military source as saying.

A military official says more strikes targeted the provincial capital from the sea but Syrian air defenses intercepted them.

The state-run Al-Ikhbariya TV reported that half an hour aftrer loud explosions were heard, strikes continued. The Syrian program aired footage of what appeared to be fire in a pitch black area.

The Syrian Observatory for Human Rights said the missiles targeted ammunition depots of the technical industry institution located in the eastern outskirts of Latakia.

On Saturday, Syria's state media said Israel has launched a missile attack on Damascus International Airport, adding that Syrian air defenses shot down some of them.

"Our air defense systems thwarted an Israeli missile aggression on Damascus International Airport," Syrian state news agency SANA cited a military source as saying.

An Israeli military spokeswoman said Israel does not comment on foreign reports.

Erlier on Monday, the Syrian Observatory for Human Rights reported that 113 Iranian and militias members identified with the Islamic Republic were killed during the two past months in Israeli airstrikes in Syria.

According to the Observatory, Iranian officers, and at least 28 pro-regime Syrian fighters were killed in the explosions of the arms depots and warehouses that were attacked since April and which Syria attributed to Israel.

Among the Iranian targets in Syria that were struck are the Al-Nayrab military airbase near Aleppo, Mezzeh military airport on the western edge Damascus, several locations in the Quneitra province that were repeatedly attacked, Dabaa military airfield in the Syrian province of Homs near the Syrian-Lebanese border, T-4 military airfield, locations in south west Syria, Aleppo International Airport, and the military airport in Hama.

Associated press contributed to the article.