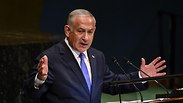 PM Netanyahu at UN
Photo: AFP
US intel official: Netanyahu's UN comments 'somewhat misleading'
After prime minister announces that Israel is aware of a second Iranian atomic nuclear facility, anonymous US intelligence official says Americans have known about it 'for some time', stresses that 'it's full of file cabinets and paper, not aluminum tubes for centrifuges.'
A US intelligence official has said that the speech delivered by Prime Minister Benjamin Netanyahu on Thursday at the UN General Assembly about the existence of a second secret atomic facility in Iran was "somewhat misleading."

Netanyahu made the announcement some four months after he presented what he said was "conclusive proof" of a secret project underway in Iran for the development of nuclear weapons.

"What I'm about to say has not been shown publicly before ... Today I'm revealing the site of a second facility, Iran's secret atomic warehouse," he said after a brief introduction praising his country under his leadership for opposing the 2015 Iran nuclear deal.


According to the US intelligence official, knowledge of the facility is nothing new to the Americans.

"First, we have known about this facility for some time, and it's full of file cabinets and paper, not aluminum tubes for centrifuges, and second, so far as anyone knows, there is nothing in it that would allow Iran to break out of the JCPOA any faster than it otherwise could," the official said.

Another US military official, speaking on condition of anonymity, said the United States is aware of the facility Netanyahu announced and described it as a "warehouse" used to store "records and archives" from Iran's nuclear program.

The claims gainsay the remarks made by Netanyahu, who said that the site, which sits a short distance from Shourabad, contained some 15 kg (33 pounds) of radioactive material that has since been moved.

Netanyahu called on the UN atomic agency to inspect the location immediately with Geiger counters, an instrument used for detecting and measuring ionizing radiation.

In May, the prime minister announced that the Mossad had pinched a trove of documents and evidence showing that Iran had archived its nuclear materials despite the nuclear deal, something which Netanyahu said proved that Iran had lied "big time."

During his speech in the UN, Netanyahu also lambasted Iran's ballistic missile activity, identifying three locations near Beirut airport where he said Lebanon's Hezbollah terror group was converting missiles.

"In Lebanon, Iran is directing Hezbollah to build secret sites to convert inaccurate projectiles into precision-guided missiles, missiles that can target deep inside Israel within an accuracy of 10 meters (yards)," he said.

Netanyahu also said that he had a message for "the tyrants of Tehran."

PM Netanyahu at UNGA (צילום: UN Web TV)

"Israel knows what you're doing and Israel knows where you are doing it," he declared. "What Iran hides, Israel will find.'

In a similar vein, Netanyahu issued a warning to Hezbollah.

"I have a message for Hezbollah today: Israel also knows what you're doing. Israel knows where you are doing it and Israel will not let you get away with it."