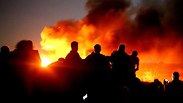 7 Gazans killed in Friday's border riots
Palestinian health ministry says three teenagers are among those killed as some 20,000 protesters clashed with IDF troops at several locations near security fence during weekly demonstrations; IAF strikes two Hamas positions in response to grenades and explosives being thrown at Israeli forces.
The Palestinian Health Ministry reported Friday that seven people, including three teenagers, aged 12, 14 and 18, were killed and at least 90 wounded by IDF fire during violent clashes that erupted along Gaza Strip's frontier with Israel.

Some 20,000 demonstrators reportedly massed at several locations near the border fence in response to calls by Hamas, who had recently promised to escalate border violence in order to advance the indirect ceasefire talks with Israel, which have reportedly collapsed.

At the fence, protesters burned dozens of tires, using the thick black smoke as a screen to throw rocks and explosives toward Israeli troops stationed on the opposite side of the fence. The soldiers responded with tear gas and gunfire.

Gaza riots

The IDF Spokesperson's Unit said in a statement that in response to "grenades and explosive devices" hurled at troops during the protests, an IAF aircraft carried out two airstrikes on Hamas militant positions in the Gaza Strip.

There were no Israeli casualties reported in Friday's clashes.

Hamas and Israel came to the brink of serious conflict this summer as violence escalated along the border. The two sides attempted to reach an agreement through indirect talks mediated by the United Nations and Egypt to ease tensions in exchange for lifting some restrictions on the economically crippled enclave.

Earlier this week, a Hamas official, Sami Abu Zuhri, said the negotiations regarding the long-term arrangement with Israel have halted. He accused Abbas, who governs parts of the West Bank, of disrupting the negotiations.

Hamas vowed to continue the marches until the Gaza blockade is lifted. It also promised to accelerate protests after Abbas, speaking at the UN on Thursday, threatened more measures to force Hamas into surrendering power.

Abbas slashed funding to Gaza and cut salaries of Palestinian Authority employees there to pressure Hamas, making it increasingly difficult for it to govern. Hamas fears

Abbas may further reduce funding to health care and other services for Gazans provided by the Palestinian Authority.

Hundreds of Hamas supporters marched in anti-Abbas protests late Thursday, burning his posters after his speech at the UN.