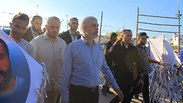 Hamas says ceasefire talks with Israel have halted, promises more border violence
Gaza's terror group announces end of discussions on possible long-term arrangement with Israeli government, after Egyptian delegation leaves strip following efforts to renew negotiations; meanwhile, incendiary balloons start nine fires in Gaza border region.
Gaza's Hamas rulers said on Sunday that the indirect ceasefire talks with Israel have been halted, despite expressing optimism regarding the deal earlier followng a round of meetings with senior Egyptian intelligence officials in the strip on Saturday.

Hamas official Sami Abu Zuhri blamed the impasse on the West Bank-based Palestinian Authority, which has voiced its strong opposition to the talks.

Abu Zuhri said that in response, his Islamic militant group is escalating its protests in new locations along Gaza's borders with Israel.

Egypt and the United Nations have been working to mediate to avoid another large-scale round of violence.

On Saturday, a delegation of Egyptian officials visited Gaza in an attempt to renew talks on a long-term ceasefire arrangement with Israel.

Palestinian sources said the main obstacle to reaching an agreement is the stance of the Palestinian Authority's leader on the issue.

"Egypt's main interest is to reach an intra-Palestinian reconciliation in accordance with President Mahmoud Abbas's demand to remain the only Palestinian representative with whom any understanding can be reached regarding Gaza," the source stressed.

Earlier on Sunday, nine fires broke out in the Gaza border region as a result of incendiary balloons launched from the strip into Israel.

The biggest fire was reported in the wadi of Nahal Gerar in the Negev desert, where almost 300 dunams of land had been burned. The flames are reported to have been extinguished.

In addition, on Sunday evening the IDF said that the Israel Air Force (IAF) attacked an incendiary balloon cell in the Gaza Strip.

On Saturday, eight fires broke in the Gaza border communities as a result of incendiary kites and balloons. One of the fires started in the Nahal Bohu Park at the entrance to the southern city of Netivot.

Fire in Nahal Bohu Park near Nativot (צילום יוסי וקנין)

On Thursday, an IAF aircraft attacked a terror cell in the northern Gaza that was launching incendiary kites and balloons into Israeli territory.

The strike was carried out in light of violent demonstrations along the southern border, which continued throughout Yom Kippur.

Earlier on Thursday, six fires broke out as a result of incendiary balloons and one fire was started by an incendiary kite. The areas which were affected by the flames are: Kibbutz Nir Am, the Be'eri Forest, the Kissufim Forest and Shokeda Forest.

On Friday, the clashes along the security fence had resumed, with thousands of Gazas massing at several points along the Israeli border.

Hamas has led weekly protests since March, demanding in large part an end to the decade-long Israeli-Egyptian blockade that has crippled Gaza since Hamas assumed control of the coastal strip.