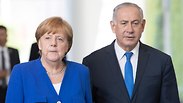 German Chancellor Angela Merkel and Prime Minister Benjamin Netanyahu
Photo: EPA
German Chancellor Angela Merkel arrived in Israel on Wednesday for the latest in a series of joint government consultations highlighting the countries' close bond seven decades after the Holocaust, even as recent developments have tested the tight ties.

Her two-day visit is expected to focus on bilateral economic issues, with an emphasis on innovation, technology and development projects. But looming in the background will be sharp differences in Israeli and German policies toward Iran and the Palestinians.

Merkel, who is accompanied by much of her Cabinet, a large business delegation and her new czar for combatting anti-Semitism, was welcomed at Ben-Gurion Airport by Regional Cooperation Minister Tzachi Hanegbi, and then headed to the Prime Minister's Residence to dine with Prime Minister Benjamin Netanyahu.

On Thursday, Merkel will visit the Yad Vashem Holocaust Memorial Center in Jerusalem at 7:35am. Then, at 9:30am, the German chancellor is set to visit the Israel Museum, where she will receive an honorary doctorate by the University of Haifa and will later head a round table at the museum's innovation exhibition with the prime minister.

Later on Thursday, the chancellor is set to meet with President Reuven Rivlin. At 2pm, Merkel will hold an official meeting with Netanyahu, which will be followed by a joint press conference.

At 7pm, the German leader is scheduled to return back to her country.

Germany is Israel's largest trading partner in Europe and for the past few decades has been perhaps its strongest ally. Israel was established three years after the end of World War II, and the German government has paid billions in reparations to Holocaust survivors and positioned itself as a leader in combatting anti-Semitism.

But differences have been exacerbated following the election of US President Donald Trump.

Netanyahu has been one of Trump's staunchest international supporters, lauding him for pulling out of the Iranian nuclear deal that Merkel and other world leaders helped negotiate in 2015. Netanyahu says the deal, which curbed Iran's nuclear program, does not include enough safeguards to prevent the Islamic Republic from developing a nuclear weapons capability.

Trump also has largely refrained from criticizing Israeli settlement activity in the West Bank—a frequent European complaint—recognized Jerusalem as its capital and moved the US embassy there. He also has cut funding to the Palestinians and fully pinned the blame for stalled Mideast peace talks on them.

Netanyahu's rapport with Merkel has been cordial and even cool at times. Merkel has continued to champion the traditional approach to peacemaking, calling for the establishment of a Palestinian state and for Israel to refrain from unilateral steps to undermine its prospect.

In a conversation with Ynet, Dr. Gil Yaron, a reporter for German newspaper Die Welt, described the current relationship between the two countries as "partly cloudy."

"If you look at the trade relations between the countries, you can see they reached a historic peak. In 2017, the trade deals between Israel and Germany amounted to about $10 billion, the highest it ever was," he said.

The director of the German Chamber of Commerce in Israel told Dr. Yaron there were so many Germans wishing to do business in Israel, he has to reject some of them after they discovered Israel "was an excellent place to do business."

"If you look at youth exchange numbers, you see that there are 10,000 teenagers from both countries registered to an exchange program. The only thing preventing Israel from raising those figures is the government. Israel does not invest sufficient funds in youth exchange programs. It cut off 70 percent of the budget, which was meager to begin with," he added.
The Khan al-Ahmar problem
Outlining the points of dispute between the two countries, Dr. Yaron explained that "last year, a meeting between the governments was canceled due to Merkel's dissatisfaction with Israeli policies, its Regulation Law, and its policy regarding the territories—which Germany disapproves of, like most countries, apart from the United States and Micronesia."

"Germany is Israel's greatest ally, no less than the US, certainly when it comes to arms deals such as submarines, which arrive at Israeli shores partly—if not entirely—funded by the Germans," Dr. Yaron stressed.

"However, when you see Europe changing, with its influx of immigrants, refugees, and rising anti-Semitism, you wonder how Germany can build its relationship with other countries when its leader, Merkel, is dealing with a decline in popularity. The system is much more complex than it once was," he added.

There also might be some tension between Merkel and Netanyahu regarding the planned evacuation of Khan al-Ahmar, a Bedouin village in the West Bank. Germany has been among the European countries calling on Israel to refrain from carrying out its plans to demolish the West Bank hamlet that was illegally built.

Israel has offered to resettle the 180 Bedouin Palestinian residents of Khan al-Ahmar a few kilometers away. But Palestinians and their European backers say the demolition is aimed at displacing Palestinians in favor of settlement expansion and would deal a devastating blow to hopes for Palestinian statehood.

The Supreme Court recently rejected a final appeal against the plans and residents are bracing for the move any day. Israeli forces are unlikely to carry it out though during Merkel's brief stay for fear of sparking a crisis.

Regardless, Israeli officials say they don't expect that issue—or Merkel's long held preference to maintain the Iran deal—to overshadow the visit, which is expected to bring about new economic agreements, the creation of a formal youth exchange and a renewed commitment to combating anti-Semitism, after Israel raised alarm over several recent cases in Germany.

Shimon Stein, a former Israeli ambassador to Germany, said that despite the Israeli government's growing alliances with several eastern European countries in the battle against radical Islam, Germany remains its strongest and most significant European backer.

"These routine consultations have created a symbolism for the relationship that should not be overlooked," he said. "Germany doesn't always see eye to eye with Israel ... but it is the leading supporter of Israel as a Jewish and democratic state."

The two countries established diplomatic ties in 1965, after which Germany began paying reparations for the Nazi-led Holocaust in which 6 million Jews were murdered.

The first joint consultation was in March 2008, when Merkel and her Cabinet arrived to mark the 60th anniversary of Israel's independence. During that three-day visit, Merkel addressed the Knesset, in German, and expressed shame over the Holocaust. The 20-minute speech earned Merkel a standing ovation.

Attila Somfalvi contributed to this story.