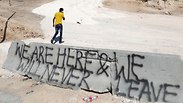 Khan al-Ahmar
Photo: Reuters
Bedouin children from Khan al-Ahmar, a village in the West Bank, appealed to German Chancellor Angela Merkel Tuesday, ahead of her scheduled visit to Israel, to help halt Israeli plans to raze their hamlet.

Khan al-Ahmar's 180 residents, backed by foreign activists who have gathered at the site, have been waiting for bulldozers to move in at any time after an Oct. 1 deadline from Israel for the villagers to demolish their own homes had expired.


Israel claims the village was illegally built and has offered to resettle residents 12 kilometers (about 7 miles) away.

"We will not voluntarily evacuate the place," said village resident Faisal Abu Dahuk. "The occupation forces that have an army and weapons can evacuate us by force, but there is no other place to go and we refuse to be moved anywhere else."

Critics say it's impossible for Palestinians to get building permits and that the demolition is meant to make room for an Israeli settlement that would effectively cut off east Jerusalem from the West Bank.

The United Nations, human rights groups, and the European Union have urged Israel not to demolish Khan al-Ahmar, citing the serious impact on the community and prospects for peace.

In September, Israel's High Court of Justice gave the go-ahead for eviction after a lengthy litigation.

"When I walk to school every day, I'm afraid my school has already been demolished," said Muna Abu Dahouk, 12.

Dahouk and several other children carried posters of Merkel on which appeals for her help were scrawled.

The German leader is due in Israel on Wednesday for talks with Prime Minister Benjamin Netanyahu and a government-to-government meeting of Israeli and German ministers.

Israeli security forces on Sunday morning handed out letters telling residents to voluntarily take down the buildings by October 1 or Israeli authorities would enforce the demolition orders.

A spokeswoman for Israel's military liaison agency with the Palestinians said no date had been set for demolition should the houses remain after the deadline.


Meanwhile, pro-Palestinian activists speculate that the eviction would not be carried out until after Merkel leaves late on Thursday.

Next to the encampment, a brown lake of wastewater formed on Tuesday, spill off from a nearby Jewish settlement. Palestinians called it a deliberate attempt to force the Bedouin to leave.

A settlement spokeswoman said the spillage was unintentional and was caused by a fault in the waste management system. She said a crew was working to repair it.