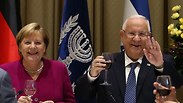 Merkel and Rivlin
Photo: Ohad Zwigenberg
Merkel: Palestinian state alongside Jewish state is the right answer
President Rivlin urges German chancellor to join sanctions on Iran, arguing that 'The Iranian monster should be starved, not fed'; Merkel says there's agreement on the overarching goal of stopping Tehran's nuclear program but not about the way to do so.
Chancellor Angela Merkel said Thursday that Germany believes a Palestinian state established alongside the Jewish state of Israel was "the right answer."

Merkel, who is in Jerusalem for a quick 24-hour visit, also spoke of Germany's deep commitment to Israel ahead of a working lunch at the President's Residence.

Rivlin focused his remarks on the Iranian threat. "We can't not appeal the decision made by the European Union to bypass the sanctions imposed on Iran," he told Merkel.

"This is the time to join the sanctions on Iran, not go around them. The Iranian monster should be starved, not fed," Rivlin stressed. "This is the only condition to maintaining stability in the region. We ask Germany to stand beside us in the demand for supervision on Iran's nuclear program, and to not allow it to evade its commitments."

Responding to Rivlin, Merkel noted that "we want to prevent Iran from using nuclear weapons. The question is in what way: should we continue with the agreement or build on the sanctions? We're working towards the same goal—to stop the Iranian nuclear program."

President Rivlin also expressed concern of a "new strain of anti-Semitism growing in Europe in the form of nationalistic right-wing political forces with Nazi roots, which are gaining traction."

"But we are not confused: There's no such thing as loving Israel and hating the Jew," he continued. "We must show zero tolerance to anti-Semitism and racism."

Earlier in the day, Merkel visited the Yad Vashem Holocaust Memorial Museum. "We're committed to the memory and to ensure something like this would never happen again," she said at the President's Residence. "We'll fight against anti-Semitism, xenophobia and any type of discrimination. We have a commitment to ensure a better future."