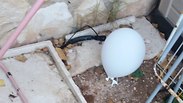 Incendiary balloon lands in Givat Ze'ev
Photo: Yael Peretz
An incendiary balloon, with an attached cigarette and a fuse—possibly containing explosives, was found Monday in a backyard of a residential home in the settlement of Givat Ze'ev, north of Jerusalem.
Police forces that arrived at the scene collected evidence and sent the balloon to a laboratory for further inspection. There were no casualties reported and no damage was done.
"We did not think it was an incendiary balloon at first. We looked at it for a few moments, until we decided to call the settlement's security team, which called the police," said Almog Peretz, the owner of the house where the balloon landed.
"When the police arrived, they evacuated us from our home, and shut down the entire street. It was very stressful. We understood that it was an incendiary balloon and that a disaster was avoided," Peretz added.
Two weeks ago, an incendiary balloon was located in the Malha Mall's parking lot in Jerusalem. The following day, another balloon was found in Kibbutz Rosh Tzurim in Gush Etzion.
In July, the first incendiary balloon was discovered in Jerusalem—inside a backyard in the Gilo neighborhood.
The balloon did not flare up, and the four children who discovered the balloon found it on a gas tank. The balloon was wrapped in jute cloth and a joss stick was attached to it.
Just a few days ago, one of the largest fires over the past six months broke out in Ein HaBesor. The fire was most likely caused by an incendiary balloon flown from Gaza, as minutes before the fire broke out, balloons blown from the strip were seen flying in the air.
In addition, last weekend, an incendiary balloon was discovered near Ligad, the technological park in Modiin.
Another incendiary balloon was later found at the Givati junction between Ashkelon and Kiryat Gat—an area where incendiary balloon don't usually land because of its distance from Gaza.