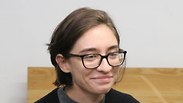 Lara Alqasem
Photo: Motti Kimchi
Court hears US student's appeal against detention
Lara Alqasem, the American student detained at Ben Gurion Airport for allegedly supporting BDS, appeals the decision to bar her entry into the country; her lawyer: 'she is a member of a small organization, you created a demon'; Israel says group advocates boycotting Israel.
Lara Alqasem, the American student held for the past week in detention at Ben Gurion Airport over allegations that she supports the Boycott, Divestment, Sanctions (BDS) movement, appealed her detention Thursday before a court in Tel Aviv.
Alqasem appeared calm, mostly keeping her hands on her knees during the court hearing. She did not speak to reporters during the session, but smiled giddily when she was surrounded by journalists and photographers.
She is to remain in detention until the court delivered its ruling—the date for which has not been set.
The 22-year-old American with Palestinian grandparents landed at Ben-Gurion Airport last week with a valid student visa and was registered to study human rights at Jerusalem's Hebrew University.
But she was barred from entering the country and ordered to be deported, based on suspicions that she's an activist in the BDS movement. Israel insists she can leave at any time but must renounce the actions of the boycott group if she wishes to be reconsidered for admission.
Last year, the Knesset enacted a law banning entry for any foreigner who "knowingly issues a public call for boycotting Israel." It's come under heavy criticism for its handling of Alqasem's case.
The American graduate student, from the Fort Lauderdale suburb of Southwest Ranches, Florida, is a former president of the University of Florida chapter of Students for Justice in Palestine, which is a branch of the BDS movement.
Its activities, the government said, included a campaign to boycott Sabra hummus, made and sold in the United States by a company partially owned by a firm in Israel.
BDS supporters say that in urging businesses, artists and universities to sever ties with Israel, they are using nonviolent means to resist unjust policies toward Palestinians. Israel says the movement masks its motives to delegitimize or destroy the Jewish state.
"The time has come for some national pride here," Interior Minister Aryeh Deri said on Army Radio just before the hearing, calling the entry ban justified.
Strategic Affairs Minister Gilad Erdan described Students for Justice in Palestine as an extremist organization. "We don't want to see their activists coming to Israel and trying to use our infrastructure to harm us and destroy us," he said.
MK Mossi Raz of Meretz called on Erdan to free her and stop a "snowball" that is getting larger all the time. "Stop this circus, you are causing grave damage to Israel's image," he said.
Erdan floated a possible compromise, saying that he would drop his efforts to expel her if she apologizes and renounces her BDS support, declaring she believes support for a boycott is "illegitimate."
"We're talking about someone who simply wants to study in Israel, who is not boycotting anything," said her lawyer, Yotam Ben-Hillel.
"In reality, she was a member of a small group, SJP, who at its peak numbered eight people. There are no public calls for a boycott. You created a demon. She was accepted to university, paid money, received a visa and came to study at the Hebrew University," he argued.
Ben-Hillel said Alqasem stopped her activities in the Students for Justice group months before the anti-boycott law came into effect, effectively voiding the decision to ban her.
"Visa cancellation should be done only in exceptional circumstances and this is not such a case," he added.
At an earlier hearing, the American graduate student pledged not to take part in boycott activities while in Israel and said she did not intend to visit the West Bank, her attorneys said.
In addition, former professors have described her as a curious and open-minded student. Jewish groups in the United States as well as the Hebrew University itself have come to her defense.
According to a statement issued by The Hebrew University, "the entry of students from foreign countries into Israel is immensely important…Back in their homelands, these students could help us deal with boycotts and various attacks on our country.
"Will preventing Alqasem's entry strengthen Israel in its fight against BDS? We think the result will be just the opposite. She will study here and we will show you that this is a democratic country," the statement concluded.