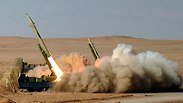 Iran has reportedly stepped up its shipments of advanced weapons to Hezbollah in Lebanon, Fox News reported on Friday, citing American and Western intelligence sources.

According to Fox, one of the shipments arrived in Lebanon only three days ago, transporting GPS components to make unguided rockets into precision-guided missiles, increasing the threat to Israel.

An Iranian cargo plane reportedly took off from the Tehran International Airport on Tuesday at 9:33am, flying to an unknown destination. It later arrived in Damascus and then continued to Beirut, where it landed just after 2pm, Fox News said, citing flight tracker software.

The next day the plane left Beirut and flew to the Qatari capital Doha, landing there just after midnight Thursday. It returned to Tehran at 6:31pm.

Last month, during his speech at the UN General Assembly, Prime Minister Benjamin Netanyahu revealed Hezbollah has attempted to build an infrastructure for the conversion of surface-to-surface missiles into precision missiles near an airport in Beirut, aided by Iran.

"In Lebanon, Iran is directing Hezbollah to build secret sites to convert inaccurate projectiles into precision-guided missiles. Missiles that can target deep inside Israel within an accuracy of ten meters," Netanyahu said.

"Hezbollah is deliberately using the innocent people of Beirut as human shields. They've placed three of these missile conversion sites along Beirut's international airport," he revealed.

In response, Hezbollah Secretary-General Hassan Nasrallah said his organization now has "highly accurate ... missiles" and that, should Israel impose a war on Lebanon, "it will face a fate and a reality it never expected on any day."

Netanyahu later dismissed Nasrallah's threats, saying "If they confront us, they will suffer a crushing blow the levels of which they cannot imagine."

In August, Reuters reported that Iran has given ballistic missiles capable of striking Tel Aviv to Shi'ite proxies in Iraq and is developing the capacity to build more there to deter attacks on its interests in the Middle East, according to Iranian, Iraqi and Western sources.

The move is meant to give Tehran the means to hit regional foes, the sources said, and would place Israel within direct striking ditance.

The Zelzal, Fateh-110 and Zolfaqar missiles in question have ranges of about 200 km to 700 km, putting Saudi Arabia's capital Riyadh or Tel Aviv within striking distance if the weapons were deployed in southern or western Iraq.

The Western source said the number of missiles was in the 10s and that the transfers were designed to send a warning to the United States and Israel, especially after air raids on Iranian troops in Syria.

Iran rejected the Reuters. "Such false and ridiculous news have no purpose other than affecting Iran's foreign relations, especially with its neighbors," Foreign Ministry spokesman Bahram Qassemi said, according to IRNA.

"This news is solely aimed at creating fears in the countries of the region," Qassemi added.