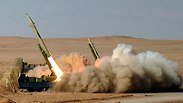 Fateh-110 ballistic missile
Report: Iran moves missiles to Iraq that can hit Tel Aviv
Zelzal, Fateh-110 and Zolfaqar missiles have ranges of between 200-700 km, making Israel's main coastal city vulnerable if deployed in southern or western Iraq; 'The logic was to have a backup plan if Iran was attacked. The numbers can be increased if necessary,' says one Iranian official; Israel issues no immediate comment.
Iran has given ballistic missiles capable of striking Tel Aviv to Shi'ite proxies in Iraq and is developing the capacity to build more there to deter attacks on its interests in the Middle East, according to Iranian, Iraqi and Western sources.

The move is meant to give Tehran the means to hit regional foes, the sources said, and would place Israel within direct striking ditance.

The Zelzal, Fateh-110 and Zolfaqar missiles in question have ranges of about 200 km to 700 km, putting Saudi Arabia's capital Riyadh or Tel Aviv within striking distance if the weapons were deployed in southern or western Iraq.


Iran's Sunni Muslim Gulf neighbours and its arch-enemy Israel have expressed concerns about Tehran's regional activities, seeing it as a threat to their security.

Israeli officials did not immediately respond to requests for comment about the missile transfers.

Prime Minister Benjamin Netanyahu said on Wednesday that anybody that threatened to wipe Israel out "would put themselves in a similar danger".

"Those who threaten to wipe us out, put themselves in a similar danger, and in any event will not achieve their goal," the prime minister said during a ceremony to rename the nuclear research center after the late Israeli statesman Shimon Peres.

"Our enemies know very well what Israel is capable of, they know our policy, and anyone who tries to harm us—we will harm them," Netanyahu added.

The Western source said the number of missiles was in the 10s and that the transfers were designed to send a warning to the United States and Israel, especially after air raids on Iranian troops in Syria. The United States has a significant military presence in Iraq.

Any sign that Iran is preparing a more aggressive missile policy in Iraq will exacerbate tensions between Tehran and Washington, already heightened by US President Donald Trump's decision to pull out of a 2015 nuclear deal with world powers.

It would also embarrass France, Germany and the United Kingdom, the three European signatories to the nuclear deal, as they have been trying to salvage the agreement despite new US sanctions against Tehran.

According to three Iranian officials, two Iraqi intelligence sources and two Western intelligence sources, Iran has transferred short-range ballistic missiles to allies in Iraq over the last few months. Five of the officials said it was helping those groups to start making their own.

"The logic was to have a backup plan if Iran was attacked," one senior Iranian official told Reuters. "The number of missiles is not high, just a couple of dozen, but it can be increased if necessary."

Iran has previously said its ballistic missile activities are purely defensive in nature. Iranian officials declined to comment when asked about the latest moves.

The Iraqi government and military both declined to comment.

The Quds Force, the overseas arm of Iran's powerful Islamic Revolutionary Guard Corps (IRGC), has bases in both those areas. Quds Force commander Qassem Soleimani is overseeing the program, three of the sources said.

Western countries have already accused Iran of transferring missiles and technology to Syria and other allies of Tehran, such as Houthi rebels in Yemen and Lebanon's Hezbollah.
Missile production line
"It seems Iran has been turning Iraq into its forward missile base," the Western source said.

The Iranian sources and one Iraqi intelligence source said a decision was made some 18 months ago to use militias to produce missiles in Iraq, but activity had ramped up in the last few months, including with the arrival of missile launchers.

"We have bases like that in many places and Iraq is one of them. If America attacks us, our friends will attack America's interests and its allies in the region," said a senior IRGC commander who served during the Iran-Iraq war in the 1980s.

The Western source and the Iraqi source said the factories being used to develop missiles in Iraq were in al-Zafaraniya, east of Baghdad, and Jurf al-Sakhar, north of Kerbala. One Iranian source said there was also a factory in Iraqi Kurdistan.

The areas are controlled by Shi'ite militias, including Kata'ib Hezbollah, one of the closest to Iran. Three sources said Iraqis had been trained in Iran as missile operators.

The Iraqi intelligence source said the al-Zafaraniya factory produced warheads and the ceramic of missile moulds under former President Saddam Hussein. It was reactivated by local Shi'ite groups in 2016 with Iranian assistance, the source said.

A team of Shi'ite engineers who used to work at the facility under Saddam were brought in, after being screened, to make it operational, the source said. He also said missiles had been tested near Jurf al-Sakhar.

The US Central Intelligence Agency and the Pentagon declined to comment.

One US official, speaking on condition of anonymity, confirmed that Tehran over the last few months has transferred missiles to groups in Iraq but could not confirm that those missiles had any launch capability from their current positions.

Washington has been pushing its allies to adopt a tough anti-Iran policy since it reimposed sanctions this month.

While the European signatories to the nuclear deal have so far balked at US pressure, they have grown increasingly impatient over Iran's ballistic missile program.

France in particular has bemoaned Iranian "frenzy" in developing and propagating missiles and wants Tehran to open negotiations over its ballistic weapons.

Foreign Minister Jean-Yves Le Drian said on Thursday that Iran was arming regional allies with rockets and allowing ballistic proliferation. "Iran needs to avoid the temptation to be the (regional) hegemon," he said.

In March, the three nations proposed fresh EU sanctions on Iran over its missile activity, although they failed to push them through after opposition from some member states.

"Such a proliferation of Iranian missile capabilities throughout the region is an additional and serious source of concern," a document from the three European countries said at the time.
Message to foes
A regional intelligence source also said Iran was storing a number of ballistic missiles in areas of Iraq that were under effective Shi'ite control and had the capacity to launch them.

The source could not confirm that Iran has a missile production capacity in Iraq.

A second Iraqi intelligence official said Baghdad had been aware of the flow of Iranian missiles to Shi'ite militias to help fight Islamic State militants, but that shipments had continued after the hardline Sunni militant group was defeated.

"It was clear to Iraqi intelligence that such a missile arsenal sent by Iran was not meant to fight Daesh (Islamic State) militants but as a pressure card Iran can use once involved in regional conflict," the official said.

The Iraqi source said it was difficult for the Iraqi government to stop or persuade the groups to go against Tehran.

"We can't restrain militias from firing Iranian rockets because simply the firing button is not in our hands, it's with Iranians who control the push button," he said.

"Iran will definitely use the missiles it handed over to Iraqi militia it supports to send a strong message to its foes in the region and the United States that it has the ability to use Iraqi territories as a launch pad for its missiles to strike anywhere and anytime it decides," the Iraqi official said.

Iraq's parliament passed a law in 2016 to bring an assortment of Shi'ite militia groups known collectively as the Popular Mobilisation Forces (PMF) into the state apparatus. The militias report to Iraq's prime minister, who is a Shi'ite under the country's unofficial governance system.

However, Iran still has a clear hand in coordinating the PMF leadership, which frequently meets and consults with Soleimani.