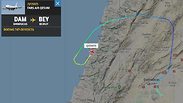 Route of Iranian airliner to Beirut
Flight QFZ9975 set off alarm bells for Western intelligence agencies. The Boeing 747 aircraft of the Iranian cargo airline Fars Air Qeshm has been operating for months in the service of arms shipments from Tehran to Syria, but this time it made an unusual stop in Beirut. Fox news reported on Friday that the aircraft delivered GPS components to Hezbollah that would make their unguided rockets into precision-guided missiles.

The 27-year-old plane, under the registration EP-FAB, took off Tuesday morning from Tehran to Damascus as flight QFZ9950 and landed in Syria just before 11am. About two hours later, in a rather unusual change, the plane took off as flight QFZ9975 directly to Beirut airport, where it landed shortly after 2pm.

The following day, the plane took off at night from Lebanon to Doha, the capital of Qatar, as flight QFZ9976, where it landed after midnight. On Thursday it made its final journey last week when it flew back as flight QFZ9977 to Tehran.

The plane has worked extensively in the past to transport equipment and weapons from the Revolutionary Guards under civilian guise, mainly to Assad's army. It entered the Iranian fleet in September 2017 after an extensive service life with companies from Japan, Georgia, Afghanistan, Armenia and Russia.

Last month, suspicions surfaced that Iran used the Boeing 747 to deliver advanced weapons to Syria. The reports came in the aftermath of the assault on the Damascus airport, attributed to Israel. This plane was documented at the time when it landed at Damascus International Airport.

Last month, it was also reported that two aircraft belonging to the Iranian airline "carried out unconventional flight routes." The first flight was by a Boeing 747, which took off on July 9 from a military base in Tehran, made a brief interlude at the Damascus International Airport, and then continued to Beirut International Airport.

The second flight took off on August 2 from Tehran and landed in Beirut about two hours before the scheduled landing, in what appeared to be "an unusual route through northern Syria."

"The Iranians are trying to find new ways to smuggle weapons to their allies in the Middle East," said an unnamed Middle Eastern intelligence source, adding that "they are exploring the West's ability to locate and define smuggling."

According to Fox News, the Iranian airline stopped operations in 2013 due to administrative failures, but became active once more last March. The company's board of directors includes three representatives from the Iranian Revolutionary Guards.

Last month. Prime Minister Benjamin Netanyahu revealed in his speech at the UN General Assembly that "in Lebanon, Iran is directing Hezbollah to build secret sites to convert inaccurate projectiles into precision-guided missiles. Missiles that can target deep inside Israel within an accuracy of ten meters."

Netanyahu addressed the Shiite terror organization and said: "Hezbollah is deliberately using the innocent people of Beirut as human shields. They've placed three of these missile conversion sites along Beirut's international airport."

Netanyahu presented world leaders with a picture of the airport and said: "Here's Beirut's international airport. Here's the first missile site. It's in the Uzai neighborhood, on the water's edge, a few blocks away from the runway. Here's the second site. It's underneath a soccer stadium, two blocks away. And here's the third site. It's adjacent to the airport itself, right next to it. So I have a message for Hezbollah today: Israel knows, Israel also knows what you're doing. Israel knows where you're doing it. And Israel will not let you get away with it."

The IDF published a record of the Hezbollah sites in the Lebanese capital.