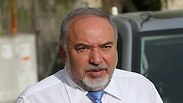 Defense Minister Lieberman
Photo: Alex Kolomoisky
Defense Minister Avigdor Lieberman criticized his fellow Security Cabinet ministers on Monday for backing efforts to reach an arrangement with Hamas instead of delivering a strong blow to the Gaza terror organization.

"Anyone who counts on an arrangement with Hamas is greatly mistaken," Lieberman said at a meeting of his Yisrael Beytenu faction. "My stance on the situation in the south is clear and well known, but unfortunately some members of Cabinet are deluded, and we already know from the past where such delusions lead."

Arguing Israel doesn't have to wait for the next flare-up on the Gaza border, the defense minister insisted that "There's no way to reach an arrangement with Hamas, and without delivering the hardest blow we can, we won't restore the quiet or the calm to the south."

"The majority of the Cabinet doesn't think as I do," he lamented. "I think that we should've already delivered such a blow several months ago."

Lieberman insisted the IDF has already presented the Security Cabinet with operative plans, quipping that anyone who claims otherwise, "I volunteer to buy him a pair of glasses and hearing aids."

"The Gaza border communities' residents are 100 percent right. This situation has been going on for seven months. We've exhausted all options. Nevertheless, some 40 rockets were launched at southern Israel over the past weekend, and this clearly cannot continue," Lieberman said in reference to the residents' protests that took place on Sunday over the rocket barrage fired at the Gaza border communities overnight Friday.

"My demand is clear—we cannot agree to the equation Hamas is attempting to create. They cannot continue receiving Qatari fuel and resort to violence at the same time, and this is why we have to use other measures.

"There is no need for a ground operation in Gaza, since we have enough means to restore calm without it. Even if we kill 40,000 Hamas and Islamic Jihad terrorists it is not worth losing one Israeli soldier," the defense minister stated.

Zionist Union Chairman Avi Gabbay said during his faction meeting that "The residents of the south have been living under constant rocket fire and Netanyahu remains silent. For the Gaza border communities' residents every weekend is a gamble—will riots erupt? Will rockets be fired or only 'several fires' will spark? Will houses be ruined or 'only a few people will suffer from anxiety'? Will Code Red alerts will sound or only black smoke will cover the skies?

"Hamas is playing the Russian roulette with the residents of the south, and Netanyahu says nothing," Gabbay concluded.