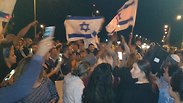 Gaza border region locals protest
Photo: Darom Adom
Gaza border region locals refuse to send kids to school despite IDF decision
Despite military's order to remove all restrictions on border communities adjacent to the strip, residents organize a social media initiated protest and announce Sunday morning they will not send their children to school until rocket attacks and incendiary terror ceases.
Despite the IDF's decision to remove all restrictions placed on the Gaza border region following an escalation of hostilities over the weekend, the residents of the communities adjacent to the strip announced Sunday they will not send their children to school in an act of protest against the continuing violence.

The protest, which was organized Saturday evening through social media, is the residents' way of expressing their frustration over the government's inaction on not only the recent rocket attacks but the incendiary kites and balloons phenomenon as well—which has been terrorizing the region for the past seven months.

The social media campaign was followed by a live meeting initiated by the residents of the Sha'ar HaNegev and Hof Ashkelon Regional Councils, and was also attended by the Eshkol Regional Council locals.

Gaza border region locals' protest (צילום: דרום אדום)

During the discussions held at the meeting it was decided that the boycott of the schools is only the first in line of a series of steps the border communities intend to take in case the terror activity aimed against them does not cease.

Meirav Cohen from Kibbutz Ein HaShlosha said in an interview with Ynet that the protest does not have political undertones and stems out of sheer frustration.

"There is no political body behind us, we organized this on our own. It is an authentic protest that was created out of pain and frustration over the security situation—which has become intolerable.

"We expect all the communities in the Gaza border region to join us because it is the only way to stop another round of escalation from occuring," she vented.

In addition, dozens of Sderot residents demonstrated at the entrance to the city on Saturday night and called on the Israeli government to restore quiet in the region. The residents blocked the entrance to the city, held banners and shouted slogans against the government.