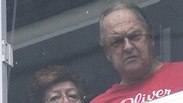 Dieter with his wife Martha
The Daily Mail
The Daily Mail reveals identity of Eichmann's 4 sons
One of the Nazi war criminal's sons lives in Argentina, next to where his father was taken by the Mossad; according to the British newspaper, Eichmann's two other sons set up a Nazi cell; 'when (their father) was executed, Klaus and Horst became very angry and started attacking Jews,' says Horst's former girlfriend.
The Daily Mail exposed Friday the identity of the four sons of Nazi war criminal Adolf Eichmann, one of whom is living in Argentina, a few kilometers away from where the Mossad kidnapped his father and brought him to Israel to stand trial for his crimes in 1960.

The chain of events leading to the capturing the Nazi war criminal Adolf Eichmann by the Mossad triggers a renewed interest worldwide amid the newly released film "Operation Finale" by Netflix, starring Ben Kingsley and several Israeli actors.

Eichmann had four sons—Klaus, Horst and Dieter—who remained loyal to their father even after his death, while his youngest, Ricardo, renounced the Nazi war criminal and condemned him.

According to the British newspaper, Klaus and Horst died three years ago. The Daily Mail tracked down Eichmann's third son, Dieter, now 76, who lives in an apartment in Buenos Aires, Argentina, a few kilometers away from where Mossad agents kidnapped his father and brought him to Israel where he was brought to justice and hung for his crimes.

Carmen, Horst's former girlfriend, told The Daily Mail the story of the Eichmann family.

In her home in Garupá, northern Argentina, 61-year-old Carmen said Horst was very close to his father. In December 2015, when Horst was 75, he died of bowel cancer in their home near Buenos Aires.



His brother, Klaus, who lived in Germany, died from Alzheimer's disease the same year, at the age of 79. Brother Dieter lives with his Italian wife, Martha Valinotti, in an apartment in Buenos Aires, just several kilometers away from where the Mossad abducted his father.

Dieter was a construction manager, who divided his time between Germany and Argentina before retiring. He now owns a number of rental properties.

He has two children and he has never given an interview, but according to Carmen he believes his father was innocent.

Carmen described her former spouse, Horst, as a 'devout Nazi' and said he hung a swastika on the family house after his father was taken. "After Grandpa Eichmann was kidnapped, the family was in crisis.'It was a very difficult time when he was in prison in Israel. The family was prepared for his execution. They all knew it would happen," she told the British newspaper.

Eichmann, who was responsible for the deportation of European Jews to ghettos and extermination camps, escaped and settled in Argentina under the alias Ricardo Klement. He lived with his wife in a modest house in Buenos Aires, where he worked in a Mercedes factory. His identity was discovered after a Jewish woman named Sylvia Hermann briefly dated his eldest son Klaus who did not know she was Jewish.

"Grandpa Eichmann had once told (his kids—ed.) that he was tired of being a fugitive. He knew what was coming and the older children knew it too.

"They expected it, but it didn't make it easier. When he was executed, Klaus and Horst became very angry and started attacking Jews. That made things even worse for them," Carmen added.
Eichmann's children set up a Nazi terror cell
Carmen is a seamstress by profession and has lived with Horst for 13 years.
"Horst believed that his father had done nothing wrong. Apart from Ricardo, all the brothers agreed that Grandpa Eichmann was innocent. He told his sons that Hitler went after the Jews because they planned to sterilise Germans by putting chemicals in the water.
"That is why they were killed, he told them. Horst strongly believed that his father had done the right thing. If Horst thought Eichman was guilty, his whole world would have fallen apart," she told The Daily Mail.
According to Carmen, Eichmann persuaded his sons that he had only wanted to expel the Jews from Germany, but was forced to murder them after no other country would accept them.
Eichmann initially told his sons that he was their uncle, in order to prevent his true identity from being discovered, and confessed the truth only after an argument with Horst, she explained.
After their father was executed, The Daily Mail revealed, Horst and Klaus set up a Nazi cell and planned to attack Jewish businesses and synagogues.
It was also reported that in 1962, following a shoot-out with the police, cops raided the Nazi cell's headqaurters and uncovered Nazi propaganda, rifles and Molotov cocktails— with which they planned to attack a Jewish schoolbus. Horst was sent to prison two years later for possession of firearms and Nazi propaganda material.
The son still believes Eichmann is innocent
Carmen said she found out about Horst's Nazi father when she was six months pregnant with their daughter.

"It was a shock at first. But I didn't blame Horst for not telling me. He was a very cautious person. When Veronica was born, we gave her my maiden name in the hospital. We could never know who was around us," Carmen recalled.

Klaus, Eichmann's firstborn son, was extremely radical and deeply committed to Nazi ideology. According to media reports at the time, he organized a press conference in Buenos Aires hours after his father was sentenced to death, in protest of the "injustice" of the sentence.

"All these things they are accusing my father of are pure propaganda…These war crimes are not true… I have heard that top Jews themselves ordered these executions because they believe Jews should be martyrs," he said in a 1961 interview with Parade Magazine during a visit to the United States which, according to CIA documents, prompted local authorities to deport him.

In 1959 Klaus married Martha — a woman of African descent. The couple had two children. Later on, Klaus left his wife and moved to southern Germany, where he had three more children from another woman. He died, as stated, three years ago.

Ricardo, the youngest son, was born in Argentina. After his father was taken into Israeli custody when he was five-years-old, he moved to Germany with his mother Veronica and became an archaeologist specializing in the Middle East. In the 1990s he said in an interview that his father's execution was justified, since he deserved to die for his horrific crimes.