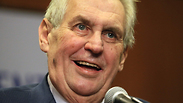 The President of the Czech Republic Miloš Zeman
Photo: AFP
Czech President, staunch supporter of Israel, to visit
Czech President Miloš Zeman will meet with PM Netanyahu and President Rivlin during a visit to the capital; he will also speak at the Knesset, and inaugurate a cultural center—a preliminary step in his plan to move the Czech embassy to Jerusalem.
Czech Republic President Miloš Zeman will arrive in Israel Sunday for an official visit, during which he will inaugurate a cultural center as a preliminary step in his plan to move the Czech embassy to Jerusalem.

Zeman will be joined Tuesday by Prime Minister Benjamin Netanyahu for the opening of the "Czech House," a cultural center in Jerusalem responsible for the Czech Republic's cultural, economic, tourism and scientific activities in Israel.

The Czech leader will also meet with President Reuven Rivlin and deliver a speech in the Knesset, before heading back to his country on Wednesday.


Zeman is in favor of moving his country's embassy to Jerusalem and even marked the move as a top priority in his foreign policy. His Prime Minister Andrej Babiš, meanwhile, opposes the move, fearing it could lead to a confrontation with the European Union.

Nevertheless, Zeman is pushing the head with the move, taking two preliminary steps before relocating the Czech embassy from Tel Aviv to the capital: the appointment of an honorary consul in Jerusalem and the inauguration of the cultural center

President Zeman, an avid supporter of Israel, was one of the first European leaders to publicly support US President Donald Trump's recognition of Jerusalem as Israel's capital, and even condemned the European Union's (EU) concerted attack against the decision, denouncing its leaders as "cowards."

"The European Union, cowards, are doing all they can so a pro-Palestinian terrorist movement can have supremacy over a pro-Israeli movement," said Zeman.

In addition, Zeman also boasted of being a "defender of Israel."

"During my visit to Israel four years ago, I said I support the transfer of the Czech Embassy to Jerusalem. Perhaps we will follow the US sooner or later. Every state has the right to decide which city is its capital," he declared.

Last year, the Czech president managed to astonish the European Parliament when a British MP asked him about the Israeli-Palestinian conflict, and he responded with an unprecedented speech in support of the Jewish state.

"My answer may disappoint you. I am a friend of Israel... deep friend of Israel, and that is why I think that peace in the Middle East must be based primarily on the safety of Israel. I know the history of all the wars starting in 1948. Every war was victorious for Israel, but defeat would mean the end of the Jewish State," he replied.

"I think, unfortunately, that in some countries or movements, including Hezbollah, Hamas and others... there's a tendency to diminish and destroy Israel. What can we do in order to have peace in the Middle East? We need to disarm terrorist organizations, Hamas and Hezbollah first and foremost," Zeman stressed.

Last summer, the Czech president appointed Foreign Minister and Deputy Prime Minister Martin Stropnický as ambassador of the Czech Republic to Israel.

Stropnický had already visited Israel and submitted his credentials to President Rivlin.

Similar to Zeman, the Czech ambassador is also a staunch supporter of Israel. For instance, as foreign minister he issued a public statement supporting Israel's right to defend itself in the face of of the 'March of Return' rallies in Gaza.

According to Stropnický, Hamas alone was responsible for the deaths of Palestinians during Gaza border riots, and stressed that no state would accept Hamas's provocations.

Stropnický also criticized the terror organization for using young men and women as human shields.