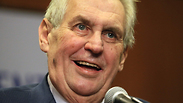 President Miloš Zeman
Photo: AFP
The president of the Czech Republic announced Thursday that he wants his country to follow in US President Donald Trump's footsteps to transfer its embassy from Tel Aviv to Jerusalem.

Follow Ynetnews on Facebook and Twitter

President Miloš Zeman, who in January was elected to serve a second term, marked the move as a number one priority for his foreign policy, according to a front-page story in the Lidové noviny newspaper.

Zeman would be the third political domino to fall behind Trump, with Guatemala announcing almost immediately after the US president that it would follow suit. On Sunday, Guatemalan President Jimmy Morales said at a conference in Washington that his country plans to move its embassy in May, two days after the US embassy makes the same move.

Despite his stated intentions, Zeman's policy could come up against crippling stumbling blocks since such decisions in the central European state require the support of the government, and not merely the president's word.


The government has yet to take a decision on the matter, and Prime Minister Andrej Babiš vocalized his opposition to the transfer to Jerusalem shortly after he was elected to his post.

It is unlikely, moreover, that the Czech Republic is ready to break ranks with the European Union (EU), which has stated its unequivocal opposition to Trump's recognition of Jerusalem as Israel's capital, let alone his transfer of the embassy.

Hopes in Israel should also be measured after Czech Foreign Minister Martin Stropnický announced that the subject was not currently under discussion. However, he did not rule out the possibility of another kind of symbolic gesture.

President Zeman is considered to be a staunch supporter of the State of Israel and was one of the first European leaders to publicly support Trump's recognition of Jerusalem as Israel's capital.

Additionally, he condemned the EU's concerted attack against the decision, denouncing its leaders as "cowards."

"The EU is composed on cowardly people who do all within their power in order for a pro-Palestinian terror movement to gain supremacy over a pro-Israel movement," Zeman said at the time.

By contrast, he boasted in December that he was a "defender of Israel."

"During my visit to Israel four years ago I said I support the transfer of the Czech Embassy to Jerusalem. Perhaps we will follow the US sooner or later. Every state has the right to decide which city is its capital."

The Czech Foreign Ministry also published in December a statement declaring that it recognized the western half of Jerusalem as Israel's capital, but insisted that final status of the easter half would have to be decided in negotiations between Israel and the Palestinians.