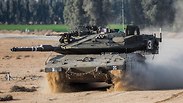 IDF's Merkava Mark 4
Photo: MCT
The conservative American magazine National Interest, which deals with foreign relations and defense, has chosen the five best army tanks in the world, each of which has a unique quality making it a dangerous adversary on the battlefield. In fourth place is the Israeli tank Merkava Mark IV.

The magazine praised the armor system of the Israeli tank, which protects the crew from injuries in the event it is hit by enemy fire. "The sensitivity to human life in Israel, a small country in which the loss of life is strongly felt, has led the Israeli military to build a tank, which places top priority on its protective armor capability as well as firepower," they wrote.


"The Merkava has excellent armor; its turret and the sharply angled front of the tank are designed to present maximum armored defense at all angles, so that the turret has a knife-like edge. The tank's engine is situated in the front, creating a dense mass between the enemy fire and the crew.

The tank's armor can also be rapidly replaced (on the battlefield), if necessary. However, the most important feature is its active protection "Trophy" system, which can intercept rockets and anti-tank missiles."

Who else made the list? In first place is the Russian T-90 A, "the best of its kind in long-range killing capability;" In second place: the American Abrahams M1, the US Army and Marines standard battle tank, "which sets the standard for the ideal combination of firepower, armor and mobility;" In third place: the German Leopard 2, the "best European tank" and fifth, the British Challenger 2, "one of the best armored tanks in the world."