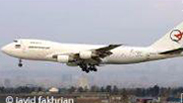 Fars Air Qeshm's Boeing 747
Photo: FlightRadar24
Iranian jet carrying arms flies directly to Beirut
Iranian airline affiliated with the Revolutionary Guards reportedly continues transferring to Hezbollah advanced weapon systems meant to convert inaccurate projectiles into precision-guided missiles, conducting for the first time a direct flight from Tehran to the Lebanese capital.
A Boeing 747 belonging to Iranian airline Fars Air Qeshm, reportedly used by the country's Revolutionary Guards to smuggle weapons to Tehran's allies, conducted a direct flight from the Iranian capital to Beirut for the first time on Thursday.

Last month, Fox News reported that a Fars Air Qeshm flight from Tehran to Damascus, which later continued to Beirut, was carrying weapon systems—including GPS components—intended to convert inaccurate projectiles into precision-guided missiles.

The 27-year-old Jumbo jet, registered as EP-FAB, took off on Thursday morning at 8:02am from Tehran to Beirut on flight QFZ9964, and landed in Lebanon at 10:19am. In the past, the jet has been in service of Japanese, Afghan, Armenian and Russian airlines.

Suspicions first arose that Iran uses the cargo airline to smuggle advanced weapons two months ago after reports emerged that the Israel Air Force (IAF) carried out an attack on targets at the Damascus airport.

"The Iranians are trying to find new ways to smuggle weapons to their allies in the Middle East … They are exploring the West's ability to locate the smuggling sites," said a Middle Eastern intelligence source, who chose to remain anonymous.

Prime Minister Benjamin Netanyahu revealed two months ago, during a speech at the United Nations General Assembly (UNGA), that over the past year, Hezbollah—guided by Iran—has attempted to build an infrastructure for the conversion of surface-to-surface missiles into precision-guided missiles near an airport in Beirut.

"I have a message for Hezbollah today: Israel also knows what you're doing. Israel knows where you are doing it and Israel will not let you get away with it," Netanyahu stressed during the speech.