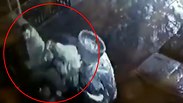 CCTV footage of the attack
An ultra-Orthodox man was assaulted in the neighborhood of Williamsburg in Brooklyn, New York, as reported by various media outlets in the United States.
The violent attack was caught on security cameras, which show a man dressed in Hasidic garb standing in the street with another man and a child, being suddenly hit on the back of the head by a man who later fled the scene.
The 32-year-old victim was lightly hurt and later evacuated to the hospital.
According to the New York Police Department (NYPD) the incident happened on Friday, shortly after 18:30pm.
NYPD said that the attacker shouted something unintelligible as he was committing the crime, and that his motive remains unclear. The local NBC channel affiliate reported that the case is not being investigated as a hate crime despite the religious attire of the victim.
Ultra-Orthodox man attacked in Brooklyn
Last October, Lipa Schwartz, an American ultra-Orthodox Jew, was also attacked in Brooklyn while walking to the synagogue.
The driver, who appeared Middle Eastern, got out and chased Schwartz until catching up with him and assaulting the victim.
Schwartz tried to defend himself and was able to escape, but was pursued by his attacker.
The NYPD was called to the scene and arrested the assailant , 37-year-old Afzal Farrukh from Staten Island, who was charged with assault, hate crime and harassment.