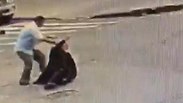 Anti-semitic attack in Brooklyn
Photo: Hashomrim
Haredi man attacked while walking to NYC synagogue
Lipa Schwartz, 62, was jumped and beaten in Borough Park, Brooklyn; the attacker: 37-year-old Afzal Farrukh, charged with a hate crime; 'Baruch Hashem, I'm out of the hospital with some minor bruises, but the trauma of being attacked by someone will stay with me forever,' says the victim
Lipa Schwartz, an American ultra-Orthodox Jew, was attacked in New York City on Sunday while walking to the synagogue.

The attack took place at 7:30am, in Brooklyn's Borough Park neighborhood.

Schwartz, 62, was on his way to the synagogue at 13th Avenue and 46th Street, carrying his tallit and tefillin, when a black vehicle pulled up next to him.

CCTV footage of the attack (צילום: ארגון השומרים)

The driver, who appeared Middle Eastern, got out and chased Schwartz until catching up with him and assaulting him, punching him in the face and and yelling at him.

Schwartz tried to defend himself and was able to escape, but was followed by his attacker.

"I knew it's either I fight myself out of this, or I might be dead," Schwartz told local media.

The NYPD was called to the scene and arrested the attacker, 37-year-old Afzal Farrukh of Staten Island, who was charged with assault, hate crime, harassment and more.

The Hatzolah aid organization of Borough Park evacuated the victim to the hospital, where he was treated for cuts and bruises to his head.

"Baruch Hashem, I'm out of the hospital with some minor bruises, but the trauma of being attacked by someone … will stay with me forever," Schwartz said.

The event was documented by CCTV from various angles, that also show another Jewish man who tried to help the victim but was chased away by Farrukh.

Local media reported that Farrukh shouted anti-Semitic slurs towards Schwarz, saying that he hates Jews and wants to kill all of them.

However, a source at NYPD told the media that Schwarz provoked the attack, after he responded to Farrukh's slurs by crossing the road and hitting his car.

The Anti Defamation League published earlier this year that between January 1st-September 30th, 2017, 1,299 anti-semitic incidents happened in the US—a dramatic 70 percent increase to the previous year, including physical attacks, vandalism and attacks on Jewish institutions.