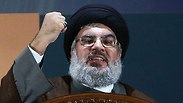 Where is Hassan Nasrallah? On Tuesday, three Lebanese parliamentarians and newspaper editors tried to pressure Hezbollah's secretary-general to appear and deliver a "vigorous speech," not only to refute information circulated by Israel, but also to threaten Israel with a wide-scale operation. But Nasrallah chose not to respond. He himself has threatened, on multiple occasions, to attack northern Israel and over the weekend Hezbollah broadcast a video displaying "targets" in Israel, with maps of IDF bases, Defense Ministry headquarters and threats in Nasrallah's voice.

But on Tuesday, Nasrallah preferred to dispatch Hezbollah fighters, in civilian clothing, to portray an image of calm from the villages of south Lebanon. I hear from senior officials in Beirut that Nasrallah has in recent days played a moderating role between Hezbollah, Iran and Syria, which is re-eyeing Lebanon enviously. Nasrallah sent his men to inform the Iranians that "this is not the right time to enter into confrontations with Israel."

The tunnels in southern Lebanon are nothing new. Ask residents in the northern communities how, over the last few years, they have been hearing the sound of digging tunnels. What is new is the massive Iranian presence that is now coming out of Syria.

The Iranians who failed to securely entrench themselves in Syria seek to turn Lebanon into an arena of confrontation with Israel and to recruit Hezbollah for the task.

Nasrallah is already stuck in a confrontation with Lebanese Prime Minister Sa'ad Hariri on the formation of his new government coalition. But the two have a common interest: Neither of them needs a confrontation with Israeli now. Hariri also does not want the Iranians and the Syrians in Lebanon at all. Hariri met with US Ambassador to Lebanon Elizabeth Richards to convey the message that he cannot afford a new round of confrontation with Israel.

Once again we read in the Russian media, not coincidentally, that Israel is plotting to expand the operation into Lebanon in order to eliminate Nasrallah. But even Nasrallah knows that this is not Israel's intention. One can even say that Nasrallah is actually protected. Israel has no plans to eliminate him now, and we know that if Nasrallah disappears, there is always a willing new leader for Hezbollah to take his place. Israel has grown accustomed to Nasrallah and his dramatic performances are familiar to us, with all the threats he likes to issue.

We must recall that Hezbollah has huge quantities of missiles, some of which can reach almost the entire territory of the State of Israel. And yet Hezbollah does not use them. And another fact: Israel knows exactly where Nasrallah is hiding, at what address, on what floor, and yet did not even try to kill him once. To some extent he is protected, unless he commits a terrible folly.

It is likely that he will appear within a few days to convey a message to his organization's members, to the Lebanese government, and to Israel as well.