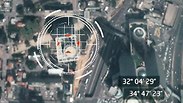 Images from Hezbollah's propaganda video
Hezbollah releases video threatening Israel
Propaganda video released by Lebanon's terror group, which features images of IDF soldiers and Kirya headquarters base in Tel Aviv, warns Israel against striking Shiite organization's targets in the country with a message reading 'If you dare attack, you will regret it.'
Propaganda video released by Lebanon's terror group
Lebanon's Hezbollah terror group released Friday a propaganda video in which it warns Israel against striking the Shiite organization's targets in the country.
The video, part of Hezbollah's psychological warfare campaign, features images of IDF soldiers and military bases—including the Kirya headquarters base in Tel Aviv—and is accompanied by a message written in Hebrew, reading,"If you dare attack, you will regret it."
Avichay Adraee, IDF's Arabic-language spokesperson, issued an official statement in response to the terror group's video.
"Those who live in glass houses shouldn't throw stones," the spokesperson stressed.
On Monday, Adraee wrote on his Twitter account that Lebanon must stop allowing the Iranian jets transfer weapons to Hezbollah.
The video message comes a day after it was revealed that for the first time, the Iranian airline affiliated with the Revolutionary Guards conducted a direct flight from Tehran to Beirut. The aircraft was reportedly carrying advanced weapon systems meant to convert inaccurate projectiles into precision-guided missiles.
Only hours after the Iranian airliner is reported to have landed in the Lebanese capital, Syrian state media claimed the country's defense forces had intercepted several "hostile targets" during an alleged IAF attack near Damascus.
The IDF Spokesperson's Unit denied the Syrian report.