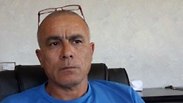 Ahmed Salama, 50, who was shot to death on Friday near his home in the Arab-Israeli town of Jaljulya, was wanted by the Palestinian Authority for the crime of selling land to Jews, a PA source told Ynet.

Salama, originally from Qalqilya in the West Bank, attained Israeli citizenship after he married an Israeli-Arab woman.

Salama was nicknamed the "Bedouin" and was well known as a real estate dealer who had no trouble purchasing land from Palestinians because he was an Arab. He was detained by the Israel Police last Wednesday for unknown reasons and released.

His family claims that the police have stormed their home searching for illegal weapons, as he was suspected of being an arms dealer as well, although he refuted such claims.

The court has issued a week-long gag order on the case. Police say that all possibilities are being looked into in the investigation, including whether the murder is related to a land sale to Jews. If that is the case, it would be unprecedented since Salama has Israeli citizenship.

Israel and the US have been pressuring the PA recently over the arrest of Issam Akel, an east Jerusalem resident and American citizen accused of selling a house to Jews.

Police have also arrested the PA governor for east Jerusalem Adnan Ghaith as a suspect of involvement in the kidnapping of Akel and his deportation to the PA territories. Ghaith, who is now on house arrest, was also banned from entering the West Bank.
Father murdered for same reason
Residents of the West Bank town of Bidya expressed satisfaction at the murder of Ahmed Salama. His family fled the town to Qalqilya in the 1980s after it was discovered his father, Rashad, sold Palestinian land to Jews and was himself murdered as a result. Ahmed then left Qalqilya for Jaljulya, within Israel proper.

Ahmed received Israeli citizenship for reasons not entirely clear. His family claims that it was because he married an Israeli-Arab woman, but the PA claim it was because he collaborated with Israel. In any case, he continued buying Palestinian land and selling it to Jews.

The land his father sold is now the illegal outpost of Ma'aleh Yisrael, near the settlement of Barkan. Local Palestinians call the site "Rashad's Settlement." Rashad is known in Bidya as "a dirty traitor and collaborator with Israel." Rashad's partner was also murdered for involvement in the land deal.

The son, Ahmed, continued openly buying and selling land to Jews, he was known to express enthusiasm for the State of Israel.