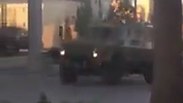 Security services hunt for attacker
During an operation near Ramallah Wednesday night, the Counter Terrorism Unit of the Border Police, Yamam, killed a Palestinian suspected of involvement in the shooting attack outside of Ofra on Sunday.

The force shot at a taxi in the West Bank town of Surda, north of Ramallah; another passenger was injured and was taken to a hospital in Jerusalem.




The two men who were shot, Saleh and Awad Barghouti, are from the town of Kobar and are both members of the large Barghouti clan from the Ramallah region.

Security forces also arrested a number of Palestinian residents of the town of Silwad for suspected involvement in the terror attack. Forces also surrounded a house in Ramallah, not far from the Muqata, the Palestinian government complex.






Hours earlier, the death was announced of the infant born in an emergency cesarean section after his mother was shot and seriously wounded in the Ofra attack. His funeral is set for Wednesday night in Jerusalem.

Both parents remain hospitalized.