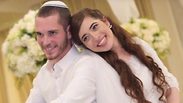 Shira and Amichai Ish-Ran
Photo: Youtube screenshot
Medical personnel struggled for four days to save his life but on Wednesday, doctors at Sha'arei Tzedek Medical Center in Jerusalem announced the death of the infant, born prematurely, after his mother was wounded in a terror attack near the settlement of Ofra, north of Jerusalem.

The parents, Shira and Amichai Ish-Ran, visited their son for the first time at the hospital's ICU Wednesday morning. On Tuesday, the couple met each other for the first time since the attack. Shira sustained serious injuries while her husband Amichai was lightly wounded and uses a wheelchair.

Earlier, Shira's father described how after she awoke, the couple held hands but could not speak. He expressed gratitude that although she was seriously hurt, Shira's life was spared. He also expressed hope that the premature infant's condition would improve. Tragically, that was not to be.

Speaking to the foreign press, Prime Minister Benjamin Netanyahu said: "Our hearts are with Shira and Amichai over the passing of their four day old son who did not even have a name. The murderers are abhorrent, the most deviant criminals on earth. The security forces are pursuing them and I hope that there will soon be news on this matter. We will not rest until we find them and deal with them to the fullest extent of the law."

President Reuven Rivlin called the parents "true heroes." He posted a poem "the parable of the fledgling" by Eli Eliyahu about a baby bird that falls from his nest and cannot be rescued.

"We are with you, embracing you, and will not rest until this despicable terrorism is uprooted," he said.

Security forces are continuing their search for the terrorists who committed the drive-by shooting attack outside of Ofra on Sunday.

Palestinian sources reported that a large amount of IDF soldiers were operating in Ramallah Tuesday in a bid to locate the shooter and accomplices. They added that the forces entered the offices of the Palestinian news agency Wafa and confiscated video cameras.

Security officials expressed concern that the suspect has not yet been apprehended noting that the terrorist from the Barkan attack has also not been caught yet and this might provide encouragement to potential attackers.

Ina addition to the couple, five others were also wounded in the Ofra attack. One is in moderate condition and the rest sustained light wounds.

Footage from the scene of the attack reveals a white sedan approaching the location before slowing down and releasing a stream of bullets into the people standing at the bus stop at the entrance to Ofra, before the car fled the scene.