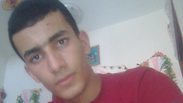 Israeli security forces killed terrorist Ashraf Na'alwa at a house in the Askar refugee camp in Nablus early Thursday, two months after he murdered two Israelis—Kim Levengrond Yehezkel, 28, and Ziv Hagbi, 35—in a shooting attack at the Barkan industrial area in the West Bank.
The Shin Bet said Na'alwa was armed when the forces arrived at his hiding place. He was killed by the Israel Police's YAMAM counterterrorism unit after a short exchange of fire. There were no injuries among the Israeli forces.
Another Palestinian man who was on the scene was arrested on suspicion of aiding Na'alwa's escape.
Since the attack in October, Na'alwa has moved between hiding places and was able to elude Israeli forces for two months.
While the IDF and Shin Bet have yet to track his entire path of escape, an initial investigation found he first went north of the Barkan industrial area, which is west of Ariel, to the northern Samaria region, and later went south to Nablus. Then, on Wednesday night, security forces were able to track him to a small structure in the violent, crowded refugee camp.
The YAMAM force covertly raided the structure, where they found the terrorist, who opened fire at them with the Carlo rifle he used to carry out the attack. He was shot and killed on the spot.
During the search, over 100 Palestinians were arrested and questioned by security forces on suspicion they aided the terrorist or were aware of his terror activity. Some of the suspects, including the terrorist's father, were charged.
The interrogation of these suspects found that Na'alwa was planning to carry out another attack.
The IDF said catching the terrorist proved to be a challenge. "We were very close to him a few times and we missed him by a bit—he made almost no mistakes," an IDF source said.
However, the terrorist did not have a prepared escape plan. "He had a lot of luck, and we believe he acted as a lone wolf terrorist," the IDF source added.
After learning his daughter's murderer was found and killed, Kim Levengrond Yehezkel's father Rafi told Ynet that "This won't bring me back Kim. Of course he deserved to die, because this wasn't a regular terror attack; he executed her."
"I trust the army and its commanders 100 percent; the government I don't. I'm talking about the need to demolish his home immediately," he added. "I heard the terrorist's family has already dismantled part of the house, and they are not deterred."
His daughter Shahar, Kim's sister, echoed his sentiments. "It's only half comforting to know that finally, after two months, the IDF and the Shin Bet managed to kill the despicable terrorist who murdered my sister. It's a shame it took so long, and it's a shame deterrence actions have not yet been taken, such as demolishing his home and expelling his family," she said.
Yehezkel, Ziv Hagbi's father, told Ynet that while Na'alwa's death "doesn't comfort me, it's a relief to know my son's murderer is no longer alive."
"Our fear was that he would be caught alive, and then we would have to deal with him at court," Yehezkel explained.
Yehezkel bemoaned the fact there was no deterrence. "He became a hero on social media, and there was fear all kinds of other terrorists would pop up and try to imitate him, and unfortunately that is what happened over the past two months," he said.
"What bothers me is the lack of deterrence, because if there was any deterrence, we could've prevented the next murder. Maybe even my son's murder would've been prevented. It's a fact that when terrorists' homes were demolished in the past, parents who suspected their son was planning a terror attack would go to the police and report it," he explained.
A week ago, the High Court of Justice rejected a petition by the terrorist's family appealing the decision to demolish their home. IDF forces would be able to demolish the home in three days.
Yoav Zitun, Raanan Ben-Zur, Elisha Ben-Kimon and Roi Rubinstein contributed to this story.