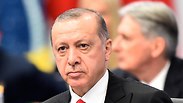 Turkish President Tayyip Erdogan
Photo: gettyimages
Prime Minister Benjamin Netanyahu lashed out at Turkish President Recep Tayyip Erdogan on Sunday, calling him an "anti-Semitic dictator" as a war of words between Ankara and Jerusalem gathered steam.
"I was just exposed to the daily trolling of the anti-Semitic dictator Erdogan," Netanyahu said at a holiday event for Christian soldiers of the IDF.
"He is obsessed with Israel. He knows what a moral army is and he knows what a genuine democracy is, as opposed to an army that massacres women and children in Kurdish villages and a state which, to my regret, is becoming more dictatorial day by day," Netanyahu said. "He is obsessed with Israel. But there has been an improvement. Erdogan used to attack me every two hours and now it is every six hours."
The row began when Erdogan claimed Saturday that "Jews in Israel" beat defenseless Palestinian people, including women and children, and threatened to "teach them a lesson."
"The Jews in Israel kick people when they're lying on the ground. In fact, Jews kick not only men, but women and children as well…as Muslims, we will confront these people if they have courage to deal with us. We'll teach them a lesson" Erdogan told Turkish youth at a meeting of Turkey Youth Foundation.
As local elections in Turkey are set to take place in about three months, the Israeli assessment is that Erdogan, who has long been a harsh critic of the Jewish state, was speaking out of political considerations.
Netanyahu also responded to Erdogan's initial comments, saying that, "Erdogan—the occupier of northern Cyprus, whose army massacres women and children in Kurdish villages, inside and outside Turkey– shouldn't preach to Israel."
The comments by the prime minister led to an angry retort by the Turkish foreign minister, Mevlüt Çavuşoğlu, who called Netanyahu "a cold-blooded killer of modern times, responsible for massacres of thousands of innocent Palestinians, bombing children on beaches."
He added: "Turkey will never stop exposing the truth."
At a Foreign Ministry conference in early December, Netanyahu made a similar joke to the one he made Sunday about Israeli-Turkish ties: "There is an 'improvement' in our relations with Turkey—Instead of every two days, Erdogan now calls me Hitler only every six days, despite the fact that Turkey has received several warnings from Israeli intelligence that prevented major terror attacks on Turkish soil. Israel has prevented dozens of catastrophic terrorist attacks and aircraft's downings. No country in the world has our intelligence."
In the past few days, Erdogan has been boosted by Washington's decision to withdraw American troops from Syria. According to officials in Washington and Ankara, US President Donald Trump made the decision rashly and on his own, following a phone conversation with the Turkish president.
"When I became president, ISIS was going wild. Now ISIS is largely defeated and other local countries, including Turkey, should be able to easily take care of whatever remains. We're coming home!" the American president said on Twitter on Saturday.
In addition, officials said that Trump made the decision without consulting with security officials or any of his allies, and in spite of fierce opposition of those involved in the fight against the Islamic State (IS).
Reports also stated that Erdogan claimed "ISIS has been beaten," and wondered why US forces are still deployed in Syria.
Trump then asked US National Security Adviser John Bolton, who had listened in on his phone call with Erdogan, whether this was true—to which Bolton answered that it was, but added that US troops must remain in Syria.
As a result, Trump told his Turkish counterpart that he would withdraw all American forces from Syria. The Associated Press reported that Trump's decision shocked both Erdogan and Bolton.