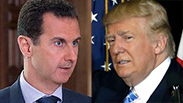 Syrian President Bashar Assad (L) and US President Donald Trump
Photo: AP
The Trump administration will withdraw all of the approximately 2,000 American troops in Syria, according to a US official, as the White House declared victory Wednesday in the mission to defeat Islamic State militants there.
Planning for the pullout has begun and troops will begin leaving as soon as possible, said the official, who was not authorized to publicly discuss military planning and spoke on condition of anonymity. US President Donald Trump said American forces no longer were needed in a country torn apart by long-running civil war.
Trump declared victory over the Islamic State in Syria, saying that it was the only reason he had kept troops in the country. "We have defeated ISIS in Syria, my only reason for being there during the Trump Presidency," Trump wrote on Twitter, his preferred means of communication.
The pullout upends assumptions about a longer-term US military presence in Syria, which US Defense Secretary Jim Mattis and other senior US officials had advocated to help ensure Islamic State cannot reemerge. Even so, Pentagon and other officials have said that US troops were countering Iran-backed militants in Syria, which was an expansion of the US mission.
Trump has previously expressed a strong desire to bring troops home from Syria when possible.
Reports of an abrupt withdrawal drew quick criticism from Congress. Sen. Marco Rubio, R-Fla., said a full and rapid removal of troops would be a "grave error with broader implications" beyond the fight against IS. The Pentagon recently said that IS now controls just 1 percent of the territory they originally held.
Responding to the reports, Pentagon spokesman Col. Rob Manning said in a statement that "at this time, we continue to work by, with and through our partners in the region."
The United States has about 2,000 troops in Syria, many of them special operations forces working closely with an alliance of Kurdish and Arab militias known as the Syrian Democratic Forces, or SDF.
The partnership with the SDF over the past several years has led to the defeat of Islamic State in Syria but outraged NATO ally Turkey, which views Kurdish YPG forces in the alliance as an extension of a militant group fighting inside Turkey.
The announcement of the US troop withdrawal comes as Ankara threatens a new offensive in Syria. To date, US forces in Syria have been seen as a stabilizing factor in the country and have somewhat restrained Turkey's actions against the SDF.
The Foreign Ministry of Russia, Assad's closest ally, said that the presence of American forces in Syria was becoming a dangerous obstacle to finding a peace settlement and accused Washington of keeping its forces there illegally.
"From being a factor in the fight against terrorism, the illegal American presence in Syria is becoming a dangerous obstacle to the path to a settlement," Foreign Ministry spokeswoman Maria Zakharova told a news briefing.
A complete withdrawal of US troops from Syria will still leave a sizeable US military presence in the region, including about 5,200 troops across the border in Iraq.
Much of the US campaign in Syria has been waged by warplanes flying out of Qatar and other locations in the Middle East.
Still, Mattis and US State Department officials have long fretted about leaving Syria before a peace agreement can be reached to end that country's brutal civil war, which has killed hundreds of thousands of people and displaced around half of Syria's pre-war population of about 22 million.
In April, Mattis said: "We do not want to simply pull out before the diplomats have won the peace. You win the fight and then you win the peace."
Islamic State is also widely expected to revert to guerilla tactics once it no longer holds territory.
A US withdrawal could open Trump up to criticism if Islamic State reemerged.