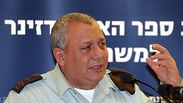 IDF Chief of Staff Gadi Eisenkot
Photo: Yariv Katz
Israel Defense Forces Chief of Staff Gadi Eisenkot said Sunday that US President Donald Trump's decision to withdraw US troops from Syria shouldn't be "exaggerated" as it has little bearing on Israel's activity in the region since the Israeli military has been operating independently in the war-torn country for years.

On Wednesday, President Trump announced the withdrawal of all US troops from Syria, which has been sharply criticized by many, especially by America's Kurdish allies, who may well face a Turkish assault once US troops leave, and had been staunchly opposed by the Pentagon.

"The IDF has operated independently in this region for decades … the arrival of the Russians at the end of 2015 created a new challenge, and made it necessary for us to establish a mechanism to prevent friction," the chief of staff said.

Eisenkot explained that over the past four years, the Israeli army's activity in Syria focused mainly on preventing the Iranians from establishing a strategic military presence across the country.

"We've poured enormous resources into it, all the while the average Israeli citizen wasn't even aware of it. Unfortunately, the public was exposed to the situation after the Russian plane was shot down during an Israeli attack," he added, referring to the incident last September, when a Russian military plane was downed by Syrian anti-aircraft missiles as they sought to attack Israel Air Force jets during an airstrike in September.

"The Iranians had a vision where they had 100,000 fighters in Syria," Eisenkot continued, "including ground troops, navy and intelligence unit, as well as a number of outposts along the Golan Heights … Over the past two years we've been able to thwart these plans, entirely on our own."

"However," added Eisenkot, " We still haven't been able to destroy the Iranian capabilities to establish regional hegemony in Syria."

The chief of staff also said the efforts of Iranian proxy Hezbollah to acquire advanced weapons systems and build infrastructure for the conversion of inaccurate projectiles into precision-guided missiles was detected by Israel several years ago.

"We've conducted many strikes in order to prevent the smuggling of advanced weapons to Lebanon," the chief of staff said.

Eisenkot also said that Operation Northern Shield, launched by the IDF in order to destroy the terror tunnels constructed by the terror groups along the Israel-Lebanon border, has been in the planning stages for the past four years.

"Hezbollah planned to launch an attack that included the occupation of the Israeli border towns … It is not hard to imagine what would have happened had there been a deterioration in the security situation in the future and hundreds of Hezbollah fighters would have infiltrate Israel through the tunnels," concluded Eisenkot.