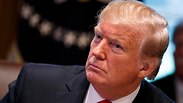 U.S. President Donald Trump
U.S. President Donald Trump appeared to change course on Syria on Wednesday, by saying that he would not intervene in any Iranian activity in the country once American troops have left.
"They can do what they want there, frankly," Trump said of Iran's presence in Syria.
Trump's statement comes a day after Prime Minister Benjamin Netanyahu met with US Secretary of State Mike Pompeo to discuss Syria and Iran.
Netanyahu said he was happy to meet Pompeo for the second time in a month, saying they had "a lot to discuss" about their "common aims."
"We're going to discuss the intense cooperation between Israel and the United States, which will also deal with the questions following the decision, the American decisions on Syria, on how to intensify even further our intelligence and operations cooperation in Syria and elsewhere to block Iranian aggression in the Middle East," Netanyahu said.
Meanwhile, a senior Israeli source said after the meeting that Israel got "almost everything it asked for" when Pompeo granted "seven out of eight" requests Netanyahu made during their meeting.
The prime minister told the press ahead of the meeting—held in Brazil's capital after the inauguration of the country's new president, Jair Bolsonaro—the main topics of discussion was to be with the withdrawal of U.S. troops from Syria and Iranian attempts to establish a military presence in the war-torn country.
The source added that Netanyahu came out of the meeting with Pompeo feeling that Israel has the ability to influence certain aspects of U.S. policy, and the two countries are now working on plans to make the American troop pull-out as non-disruptive for Israeli security as possible.
Earlier, Trump said the United States would get out of Syria "over a period of time" and wants to protect the U.S.-backed Kurdish fighters in the country as Washington draws down troops.
Trump did not provide a timetable for the planned military exit from Syria, which he announced last month against the advice of top national security aides and without consulting lawmakers or U.S. allies participating in anti-Islamic State operations.
The decision prompted Defense Secretary Jim Mattis to resign.
During a Cabinet meeting at the White House in front of reporters, Trump said he had never discussed a reported four-month timetable for the withdrawal of 2,000 American troops stationed in Syria amid a battle against Islamic State militants.
In recent days, Trump appeared to back off from any hasty pullout and stressed that the operation would be slow. "We're slowly sending our troops back home to be with their families, while at the same time fighting ISIS (Islamic State) remnants," he said on Twitter on Monday.
Graham told reporters that Trump was committed to making sure Turkey did not clash with the Kurdish YPG forces once U.S. troops leave Syria, and was assuring the NATO ally that it would have a buffer zone in the region to help protect its own interests.
Turkey views the YPG as a branch of its own Kurdish separatist movement and is threatening to launch an offensive against the group, igniting fears of significant civilian casualties.
U.S. commanders planning the U.S. withdrawal are recommending that YPG fighters battling Islamic State be allowed to keep U.S.-supplied weapons, according to U.S. officials.
That proposal would likely anger Turkey, where Trump's national security adviser, John Bolton, is expected to hold talks this week.