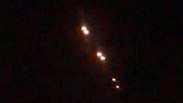 The Israel Air Force attacked several terror targets at a Hamas military base in northern Gaza in retaliation for a rocket fired from the strip early Monday.
The Iron Dome missile defense system intercepted the rocket, which was launched at 3:18am toward Ashkelon and the Hof Ashkelon Regional Council, prompting the Code Red rocket alert.
There were no reported injuries on either side.
The IDF said it holds Hamas responsible for all rockets emanating from its territory.
On Sunday, IAF helicopters struck a Hamas position in southern Gaza in response to an explosive device sent from the strip carried by a styrofoam airplane which was using a cluster of balloons to remain airborne.
The plane landed in a field in Sdot Negev Regional Council, near the Gaza border, and was neutralized by police sappers. The process caused the device to explode, but no damages or injuries were reported.
About a week and a half ago, an IAF attack helicopter attacked a Hamas position in the southern Gaza Strip in response to a rocket launch toward Israel. The rocket fell in an open area in the Sdot Negev Regional Council. No one was hurt and no damage was reported.
The Associated Press contributed to this report.