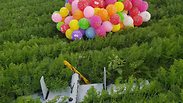 Incendiary balloons land on a plane near Gaza border
Gaza militants used a cluster of balloons to fly a styrofoam airplane carrying an explosive device into southern Israel on Sunday. The plane landed in a field in Sdot Negev Regional Council, near the Gaza border, and was neutralized by police sappers. The process caused the device to explode, but no damages or injuries were reported.
Israel Air Force helicopters struck a position belonging to the Hamas terror group in southern Gaza in response.
Around 10 days ago, a cluster of approximately 10 balloons with an explosive device attached landed on Moshav Kfar Maimon, also located in the Sdot Negev Regional Council, c lose to the fence of a kindergarten. The incident also prompted a police response, who arrived at the scene to neutralize the device.
The police have called on members of the public to exercise extreme caution if they come across suspicious airborne objects, which may contain explosives or flammable materials that could endanger their safety.
Israel Police also urged the residents of the Israeli communities near the Gaza border to immediately report any suspicious devices and leave the area at once, in order to let the sappers neutralize the objects and ensure the public's safety.