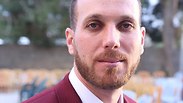 Israeli security forces arrested Tuesday a Palestinian man suspected of shooting dead two IDF soldiers and wounded another at the Giv'at Asaf outpost in the West Bank last month. He is also suspected of involvement in the shooting outside of the Ofra settlement that led to the death of an infant whose mother was wounded in the attack.

As'am Barghouti was arrested in an operation conducted by the Shin Bet domestic security services, Israel Police and IDF forces following a month long manhunt for the suspect. Barghouti's brother, Saleh, was killed during an IDF operation two days prior to the Giva'at Asaf shooting, after it emerged that he had also been involved in the attack near Ofra Junction that left seven people wounded, including a 21-year-old pregnant woman was seriously hurt.

Israeli forces arrest As'am Barghouti

Last month's attack claimed the lives of Sergeant Yosef Cohen and Staff Sergeant Yovel Mor Yosef, who had been gunned down by Barghouti, who exited his vehicle and opened fire on soldiers and civilians standing at a bus stop at the Asaf Junction near the outpost.

Prime Minister Benjamin Netanyahu congratulated the security forces on successful operation to detain the suspect. "Israel will bring to justice all those who harm our citizens," he said.

Barghouti, was arrested at the house of one of his accomplices in a West Bank village, and was making preparations to carry out similar attacks, according to the security forces that apprehended him, evidenced by the fact that a Kalashnikov rifle, massive amounts of ammunition and night vision equipment were located at the scene of the arrest. Due to the swift nature of the arrest, the suspect did not resist or attempt to use the weapons at his disposal.

"The arrest, carried out by the Shin Bet and Border Police's counter terrorism Yamam unit, is the culmination of the intelligence activity that began immediately after the attack," said the Shin Bet in a statement.

The fact that the suspect was captured alive will assist the intelligence services in locating those involved in at least two attacks involving the Barghouti brothers.

Ilanit Mor Yosef, the mother of one of the soldiers killed in the attack, said she had mixed feelings following the news of her son killer's arrest.

"Unfortunately, this news is not comforting in a country like ours, because in a few years he could be released from prison," the mother said. "He was already jailed once, but was released, so what's the point? Who's going to promise me that he will remain in jail, and that he's going to suffer there? The conditions in Israeli jails are so good that he was prepared to be captured alive."