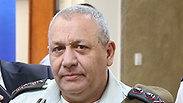 IDF Chief of Staff Lt. Gen. Gadi Eisenkot
Photo: Amit Shabi
Israel has carried out thousands of attacks in Syria as part of its covert campaign against Iranian entrenchment in the Golan Heights, outgoing IDF Chief of Staff Lt. Gen. Gadi Eisenkot said in interviews with the Sunday Times and The New York Times published over the weekend.

"We struck thousands of targets without claiming responsibility or asking for credit," Eisenkot told The New York Times.

When the civil war in Syria broke out in 2011, Israel began attacking convoys transporting Iranian weapons from Syria to Hezbollah in Lebanon. But the IDF, Eisenkot said, made sure not to directly target the Iranians themselves.

But in late 2016, as the US-led international coalition's war on ISIS was drawing to an end, Iran changed its strategy, planning to use the vacuum created with ISIS' fall to establish regional hegemony.

"They planned by the end of 2018 to have up to 100,000 Shi'ite fighters in Syria. They were bringing them in from Pakistan, Iraq and Afghanistan," Eisenkot said in an interview with the Sunday Times. "They built intelligence bases on the Golan Heights and simultaneously built wings at all the Syrian air force bases and brought in civilians to begin a process of indoctrination in schools and population centers."

As a result, in January 2017 Israel started attacking in Syria almost every day, dropping 2,000 bombs in 2018 alone, according to Eisenkot.

"We began attacking systematically a number of times each week. Without making any statements. Beneath the radar," Eisenkot said.

According to the outgoing IDF chief, the decision to directly attack the Iranians was not made lightly. The IDF chief had confidence in the plan, believing the ramifications would not be very grave because "the Iranians chose the wrong playing field" by trying to establish military presence in Syria, close to the Israeli border.

"We have intelligence superiority in this area. We enjoy complete aerial superiority, a strong deterrence," Eisenkot said.




When presenting his plan to Israel's Security Cabinet, Eisenkot said to the ministers: "We don't have a choice. If we prefer short-term considerations of keeping the quiet, we will pay a price in the long term." The Cabinet ended up unanimously approving his plan.

The IDF chief said most of the attacks in Syria against Iranian target were conducted by the Israel Air Force, but there were some carried out using ground-based missiles and Special Forces raids.




The IDF took special care to avoid harming Iranian personnel, instead targeting only infrastructure, so as to not give Tehran any pretext to retaliate. "Only a few dozen Iranians were killed in the attacks," Eisenkot said.

The Iranians eventually responded on February 10, 2018, sending a drone carrying explosives into Israeli airspace. The drone was intercepted by an IDF Apache helicopter. This was Iran's first direct attack on Israel, after relegating previous assaults to its proxy Hezbollah.






Israel retaliated by striking 12 targets in Syria, "including three aerial defense batteries and four Iranian targets," according to an IDF statement. During that attack, Syrian anti-aircraft missiles were able to down one of the Israeli Air Force's F-16 fighter jets. Its two pilots were able to bail out of the plane.

Ten Iranians were killed in Israel's retaliatory strike, including a colonel in the Iranian Revolutionary Guard Corps' Air Force.




Iran in turn retaliated with dozens of missiles fired at northern Israel. "We identified on May 8 serious preparations for a missile attack, led by the Quds Force (the IRGC's elite foreign operations unit)," Eisenkot said.

According to the Sunday Times, Israel was able to prevent some missiles from being launched, while most of the missiles that were launched the next night failed to enter Israeli airspace. Four missiles that did enter Israeli territory were intercepted.

Israel hit back, carrying out airstrikes against 80 Iranian targets in Syria.




The IDF chief said Israel identified Syria as the weak link in Tehran's aspirations of creating a "Shi'ite crescent" in the region, stretching from Iran to the Mediterranean.

Syrian President Bashar Assad now shares Israel's interest to stop the Iranian takeover of southern Syria, Eisenkot said. "Assad needed them when he had his back against the wall and now he doesn't need them," he said.

Iran, he said, might turn its attention elsewhere instead. "As we push them in Syria, they transfer their efforts to Iraq," Eisenkot told The New York Times.

Hezbollah is also less of a threat. "I can say with confidence that as we speak Hezbollah does not possess accurate (missile) capabilities except for small and negligible ones. They were hoping to have hundreds of missiles in the mid- and long-range," Eisenkot said.

In his interview with the Sunday Times, Eisenkot also admitted for the first time that Israel had supplied rebel groups in the Syria border area with light weapons "for self-defense."