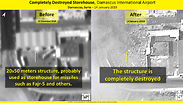 Satellite images showing damage in strike
Photo: www.imagesatintl.com
Israeli satellite company ImageSat International released Monday images of the extensive damage caused to the ammunition warehouse at the Damascus international Airport following an Israeli airstrike on Friday night.

ImageSat estimates that the arms depot contained Iranian Fajr-5 missiles, among others. The satellite images show the complete destruction of the warehouse, with three craters formed where the military compound once stood.

Near the airstrike site, headquarters facilities and aircraft can be seen, which Syria said were damaged after being hit by shrapnel.

Syrian Transportation Minister Ali Hammoud said the Israeli strike damaged the wings of several planes, putting them out of commission. "The fuel tanks are integrated into the wings of the planes, which is why it has completely disabled a number of our aircraft," Hamoud said to the Russian Sputnik news agency.

The minister said that several buildings were also been damaged in the attack.

In satellite images dated December 23, the arms depot is seen with its doors open, and trucks surrounding it. The size of the trucks, as well as the size of the warehouse itself, are in line with the estimation it was used as a missile depot.

On Sunday, Prime Minister Benjamin Netanyahu confirmed that the IAF struck Iranian targets in Syria over weekend, following Syrian reports of successful interceptions over Damascus.

On Monday, Iran denied the claims made by Netanyahu that Israel had struck "hundreds" of Iranian targets in Syria over the past two years, and dismissed reports of its military presence in the region.

"Israel's claims it has hit 200 Iranian targets over the past two years are baseless and false… it's only an attempt by the Zionists to conceal their ongoing failures in the region," said Iranian Foreign Ministry Spokesman Bahram Qassemi.

"The Zionists always spread lies and embark on psychological warfare to achieve their evil goals in the region. Iranian officials are in Syria strictly for consultation purposes. The Syrian government invited us in order to advise them on methods to fight terrorism," Qassemi said.