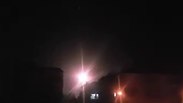 Iran dismisses Netanyahu's 'baseless' claims about Israeli strikes in Syria
Iranian Foreign Ministry says Israel's admission of carrying out 'hundreds' of attacks on targets belonging to Iran, are 'Zionists' attempt to conceal their failures in the region'; adds there is no Iranian military in Syria, only 'consultants.'
Iran denied on Monday the claims made by Prime Minister Benjamin Netanyahu that Israel struck "hundreds" of Iranian targets in Syria over the past two years, and dismissed reports of its military presence in the region.

"Israel's claims are baseless and false… it's only an attempt by the Zionists to conceal their ongoing failures in the region," said Iranian Foreign Ministry Spokesman Bahram Qassemi.

Netanyahu lifted the veil of ambiguity surrounding Israel's activity in Syria by confirming on Sunday that the Israel Air Force struck Iranian targets in the war-battered country over weekend. The prime minister added that hundreds of targets belonging to Iran and its proxy Hezbollah in Syria have been hit by the IAF.

"The Zionists always spread lies and embark on psychological warfare to achieve their evil goals in the region," he said, adding that the Iranian officials are in Syria strictly for consultation purposes. "The Syrian government invited us in order to advise them on methods to fight terrorism."

The prime minister's statement came after Syria's state-run news agency SANA said the country's air defenses intercepted missiles fired by Israeli fighter jets on Friday night. The attacks reportedly caused damage but no casualties. SANA reported that "over eight targets" exploded over the capital, adding that most of the Israeli missiles had been intercepted.

Syrian Transport Minister Ali Hammoud said that the Israeli strike damaged the wings of several planes, putting them out of use. "The fuel tanks are integrated into the wings of the planes, which is why it has completely disabled a number of our aircraft," Hamoud said to the Russian Sputnik news agency. The minister added that several buildings had also been damaged during the attack.

The outgoing IDF Chief of Staff Lt. Gen. Gadi Eisenkot also confirmed that Israel has carried out "thousands" of attacks in Syria as part of its covert campaign against Iranian entrenchment in the Golan Heights. "We struck thousands of targets without claiming responsibility or asking for credit," he said in an interview with The New York Times published over the weekend.