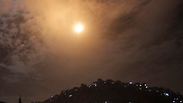 IAF attack in Syria
Photo: EPA
Iran's Ra'ad was originally a medium-range rocket, upgraded and equipped with navigation and guidance systems. It comes from a family of upgraded rockets that are at the center of a determined campaign by Israel to prevent high quality munitions from reaching Hezbollah.
Sunday's rocket fire at Mount Hermon revealed the fact that the Iranians are apparently holding an arsenal of Ra'ads in Syria. And despite the bombing raids by the Israel Air Force, there remains the concern that some of these missiles may yet reach – or have already reached – their destination in Lebanon, which would lead to a fundamental change in the threat from the north. For while only one rocket was fired on Sunday, that was likely down to the limitations on this particular model and its truck-mounted launcher.
But the Iranians have again fallen into a well-hidden trap laid by Israel: The events of the past two days are an almost exact replica of Operation House of Cards from May 2018. In both cases, the Iranians tried to punish Israel for bombing Revolutionary Guards targets in Syria. In Operation House of Cards, Israel tracked Iran's preparations to avenge the killing of Iranian soldiers at a Syrian airport on February 4, 2018. It took the Iranians three months to organize the plan, all the while under the watchful eye of Israel. And in early May, Israel carried out its preliminary attack at al-Kiswah base near Damascus, ostensibly to destroy missiles aimed at its territory. After the attack, the Iranians had no option but to respond, launching rockets a few days later from the Damascus region towards the Golan Heights.
Israel had stage-managed this chain of events thanks to its intelligence. The Iranian rockets did not cause any damage, but did provide a pretext as well as legitimacy for what followed: Israel used its own response to the Iranian violation of its sovereignty to eliminate the bulk of Iran's military infrastructure in Syria in one fell swoop. The Iranians fell for Israel's poker face.
This sequence played out again over last two days: At the end of December, Israel reportedly attacked Damascus airport, killing a number of Iranian fighters. And in this instance too, the Iranians plotted their revenge under Israel's watchful eye, setting up a surface-to-surface missile in an autonomous Iranian area among Syrian bases in al-Kiswah.
On Sunday, just as in the first attack in May, the Israel Air Force struck the area. The Iranians, just as in the first attack in May, were pushed into a pre-planned response, firing their missile at Mount Hermon. Israel had predicted this response, and had an Iron Dome battery in place to shoot down the rocket. It also used this attack as an opportunity for "revenge". Just as in the first attack in May, the Syrians reported parallel air and surface-to-surface strikes on targets in Damascus, several hours later and under the cover of darkness.
Despite Israel's apparent control of the situation, a sense of failure could well make Qassem Suleimani, commander of the Quds Force in Syria, respond irrationally. The Iranians in Syria are at a disadvantage to Israel – and the only way it can harm Israel from Syria is through terrorism. Indeed, the rocket fire on Mount Hermon is a form of targeted terrorist attack, inasmuch as it was an attempt to kill as many Israelis as possible and to damage national morale. Iran can launch terror attacks from the Syrian border through its proxies or within Israel via Palestinian cells in Gaza and the West Bank. But here too, its infrastructure is capable of major impact.
Iran views terror attacks against Israeli targets abroad as problematic in light of its sensitive relations with European countries. But it could conduct an effective campaign against Israel from the Lebanese front through Hezbollah, or from Iran or western Iraq. Yet all of these options, in particular the Lebanon option, would be a declaration of war on Israel that a country like Lebanon simply cannot afford.