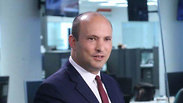 Naftali Bennett in the Ynet studio
Photo: Motti Kimchi
As election campaign heats up, Bennett takes aim at Gantz's military credentials
Head of New Right party accuses former IDF chief of failing to tackle Hamas in 2014 war and being satisfied with 'a tie'; defending decision to leave Jewish Home, outgoing education minister says new movement appeals to both religious and secular voters on the right.
With the Knesset elections just two and a half months away, New Right Party leader Naftali Bennett on Wednesday criticized his political rival, the former IDF chief and head of the Israel Resilience Party, Benny Gantz, taking aim at the military credentials that form the backbone of his campaign.

According to Bennett, then-IDF chief Gantz was not sufficiently motivated to take on Hamas during 2014's Operation Protective Edge, the 50-day war in Gaza against the terror group. Gantz, Bennett claimed, preferred a tie over victory in that conflict.

"I have nothing against Gantz on a personal level, but I was (in the Security Cabinet) during Protective Edge, and he encapsulates a worldview that favors a tie. Not seeking victory, just to come out in one piece from every campaign," Bennett said in an interview with Ynet.

"This is a worldview that has failed over the last 30 years," Bennett said. "What happened in Protective Edge? I came and said: 'Gentlemen, there are 30 terror tunnels infiltrating from Gaza, they are ripe to yield disaster, a large-scale terror attack.' And Benny Gantz came with his tie worldview and said: 'No, we don't need to go into (Gaza).'"

Bennett said he had to face off against "an entire Cabinet that was only dragging its feet," a fact he attributed to what he said was a directionless military.

"When the IDF and the commander of the IDF don't come up with a plan, you can't expect the Cabinet to push harder than the commander of the army," Bennett said.

Gantz's Israel Resilience Party said in response that the approach by the former IDF chief had led to years of quiet along the Gaza border. "After Gantz's stint (at the helm of the IDF), there followed three and a half years of deterrence and quiet," the party said.

Giving his first interview after leaving the Jewish Home party, which he headed, Bennett said the decision to form New Right last month was one that he firmly stands behind.

"This move simply saves the right-wing bloc. Before we carried out this right-wing 'Big Bang,' the bloc had 57 seats in the Knesset. Right now we're (polling) at 62-63," he said.

"There was a Zionist-religious public and people on the far right who wouldn't vote for me, and (their votes) went to Eli Yishai (former Shas head who formed his own party) and Otzma Yehudit (party led by former National Union members). On the other hand, the secular didn't vote for Jewish Home either. Now, as a party of both religious and secular, a true right-wing party, we're bringing it large sections of the public," he said.

The education minister argued that his new party is different to his old political home. "The entire starting point is different. Jewish Home-Tkuma—which was my home for six years, and I still love the people there very much—is at the end of the day a religious party. It's a party with responsibility to a certain sector. We're a party for the entire people of Israel," he said.

Bennett committed to forming a special public committee to "create a broad agreement on all matters of religion and state."

"We're not under a secular banner or a religious banner — we're Jews. We believe in tradition, in the roots of the people of Israel. Judaism doesn't belong to the religious," he said. "We really are half-secular and half-religious, like our people," he said.

"The message is that we need to strike a balance between the State of Israel as the nation-state of the Jewish people and individual liberties," Bennett said. "We're against religious coercion. I say this clearly: The New Right Party will oppose coercive religious legislation and coercive secular legislation. We have to get along in this country, everyone. There's no other choice."

Detailing the views of his party, Bennett said that "We're against giving land to Arabs, we're against releasing terrorists... we're in favor of judicial restraint... we're a true right: we don't have disengagements or a Palestinian state alongside a Jewish one. But we're also a stately right wing. We don't define ourselves by slamming our rivals. We're one people. I have no hatred to the left, I have no hatred to anyone. Even if there are disagreements, we need to get along in this country."

Despite recent reports that Prime Minister Benjamin Netanyahu has tried to undermine Bennett in the past by targeting his wife and father, the education minister said that after the April 9 vote, he would recommend to President Reuven Rivlin that he task Netanyahu with forming the next government.

"At the end of the day, we have a country to run. We're not a group of friends, and when going into the Cabinet, we take off our politician hats and do what's best for Israel. And yes, professionally we will definitely work together," Bennett said.

Bennett also revealed his ambitious targets for the elections, which includes a significant number of seats and two key ministerial posts.

"Our goal for these elections is 15 Knesset seats, and we will want the defense and the justice portfolios," he said, stressing, however, that his party would not make this a condition of joining the coalition.

Bennett also doubled down on his support for Netanyahu, who is publically trying to strong-arm Attorney General Avichai Mandelblit into delaying hearings on one or more of his three corruption investigations until after the elections. Bennett said that he would possibly back Netanyahu as leader even if Mandelblit does decides to indict the prime minister, pending the hearings.

"We won't join the populist chorus. We in the New Right party will wait until after the attorney general's decision and after the hearing, and only then will we convene and make a decision," he said. "The law today says that a prime minister doesn't have to resign until a peremptory ruling has been made. The legislator's rationale is not to allow one person, as talented as he may be—in this case the attorney general—to replace the ruler. I just want to remind you that there were similar situations in the past with (former justice minister) Yaakov Neeman, who was later completely acquitted, with Raful (Rafael Eitan) and with Rubi (Reuven) Rivlin."