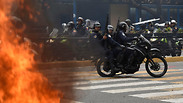 Riots in Venezuela
Photo: AFP
Israeli officials have decided to keep mum on the unrest in Venezuela due to fears it might harm the Jewish community in the Latin American country after Venezuelan President Nicolas Maduro broke off diplomatic ties with the United States. Maduro's government has been accused of fostering anti-Semitism and extreme anti-Israeli views due to Venezuela's expanding relations with Iran.

Maduro ordered American diplomats to leave the country within 72 hours, after Venezuelan opposition leader Juan Guaido declared himself interim president during a rally on Wednesday. Guaido's call for elections in the country quickly won the backing of the Trump administration, and was later followed by similar statements from Canada and a slew of right-leaning Latin American governments, including Venezuela's neighbors Brazil and Colombia.

Venezuela's 20,000 Jewish population has dropped by more than 50 percent over the past decade—with most emigrating to the United States, Mexico or Israel—due to concerns over rising anti-Semitism as well as economic and political unrest in the oil-rich state.

Today, some 5,000-6,000 Jews still live in Venezuela, the majority of whom reside in the capital Caracas. The community preserves the traditional Jewish lifestyle, attending synagogues, Jewish schools and community centers.

The Jewish Agency and other Jewish organizations say they are ready to assist Venezuela's Jews, while Jerusalem is monitoring developments in case the situation deteriorates.




At a rally in the east of Caracas that drew hundreds of thousands of Venezuelans, Guaido accused Maduro of usurping power. He promised to create a transitional government that would help the country escape its hyperinflationary economic collapse.

"I swear to assume all the powers of the presidency to secure an end to the usurpation," 35-year-old Guaido told an exuberant crowd.

Guaido's declaration takes Venezuela into uncharted territory, with the possibility of the opposition now running a parallel government recognized abroad as legitimate, but without control over state functions.

Reuters contributed to this report.