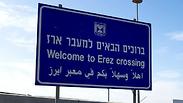 The Erez crosspoint
Photo: Roee Idan
Israel approved the transfer of $15 million in Qatari money to the Gaza Strip on Thursday, a source in Jerusalem said, but Hamas, the terror group that ruins the poverty-stricken coastal enclave, rejected the money. The money is the third installment of a series of payments aimed at keeping Gaza from collapsing.
Israel decided to approve the Qatari money after lengthy discussions throughout Thursday. Prime Minister Benjamin Netanyahu supported the decision, despite Tuesday evening's violent flare-up between protesters and IDF troops at the border fence between Israel and Gaza. The Qatari money is used to pay Hamas civil servants' salaries, provide financial support for the needy and finance $10 million worth of diesel fuel for Gaza's power station.
After Israel approved the transfer, however, Hamas decided to refuse the money. Speaking at a press conference in the Gaza Strip, Hamas official Khalil al-Hayya said the organization had spoken to Mohammed al-Emadi, the head of Qatar's Gaza Strip Reconstruction Committee, and explained their position.
"Al-Emadi understood why we decided to reject the funds rather than accept them under the terms decided by Israel. Gaza will not be subject to extortion by Israeli election theater," al-Hayya said, referring to the upcoming elections in Israel.
The transfer of the Qatari funds was halted after violence broke out at the Strip's border on Tuesday. An IDF Paratroopers officer was lightly wounded by Palestinian gunfire, which was followed by an IAF strike on Hamas military positions in northern Gaza.
Palestinian sources confirm that al-Emadi entered Gaza on Wednesday through the Erez crosspoint, but arrived without the funds.
In November, Qatar began a six-month, $150 million program to fund civil servant wages and shipments of fuel for power generation in Gaza, offering a measure of reprieve to the blockaded enclave under the control of the Hamas terror group.
Qatar hopes the aid will ease conditions and restore stability, part of efforts to bolster its international standing amid a diplomatic dispute with Saudi Arabia and other Gulf neighbors.
Emadi said earlier this week that Qatar would next push for a roughly $80 million electricity project that would have it effectively manage the strip's power supply, buying Israeli electricity in bulk and distributing it across Gaza while collecting payment from Palestinians in return.
"We will fund this project but I want to make sure I have control of the electricity so I can get my money back," he said of the plan, which would see Qatar build a power substation and network to end the need for costly fuel shipments.
"We need to find a solution for these 2 million people—this is our aim and goal. Not just to deliver money because Israel wants quiet or Hamas wants money."