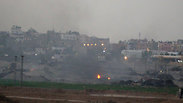 IDF attack in Gaza
Photo: Roee Idan
An Israeli officer was lightly wounded on Tuesday by gunfire from the Gaza Strip. In response an IDF tank shelled a Hamas military position near the security fence along the Gaza frontier, killing at least one and wounding two others, according to Palestinian medical sources. Hamas confirmed the three Palestinian casualties as its members.
The officer, a brigade commander for the Paratroopers, apparently had his life saved when his helmet stopped a bullet fired during the violent riots that erupted along the security fence on Tuesday afternoon. According to the IDF, hundreds of Palestinians were hurling stones at Israeli troops and trying to breach the security fence.
IDF shells Hamas position
Earlier, Gaza militants fired at an IDF patrol near the security fence, prompting the military to strike a Hamas observation post. In that incident, no injuries were reported.
In light of the renewed violence along the border, Prime Minister Benjamin Netanyahu cancelled a Qatari donation of $15 million for the Palestinian civil servants in the Gaza Strip that had been due on Wednesday as part of international efforts to head off military confrontation.
The escalation on the southern border comes after a period of relative quiet on the Gaza frontier. The launching of explosive airborne devices was halted, while the March of Return demonstrations last Friday were unusually quiet, without casualties on the Palestinian side.
In addition, Hamas has effectively suspended the weekly maritime protests in Gaza, delaying the demonstrations on various pretexts.
Reuters contributed to this report.