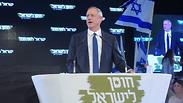 Israel Resilience Party leader and former IDF chief Benny Gantz
Photo: Motti Kimchi
After a long period of silence, Israel Resilience Party leader and former IDF chief Benny Gantz passed his first political test with flying colors. The event during which he delivered his first campaign speech at the Tel Aviv Fairgrounds on Tuesday evening was well-planned and Gantz managed to convey his message to potential voters.
Some 700 people filled the hall, while those who did not pre-register were left outside to watch the even on video screens. Tall and grey-haired Gantz sought contact—he hugged, kissed and posed for selfies with everyone who waved their phone at him, he was even compared to former US president Bill Clinton in his prime. He suddenly had charisma.
During his speech Gantz walked a tightrope, as is expected of someone who chose to run as a centrist candidate. He lashed out at Prime Minister Benjamin Netanyahu and officials from his ruling Likud party, making a series of grave accusations against them, however, he avoided mentioning them by their names and preferred to refer to them as the government, the regime, the leadership.
The government is the one creating the rift and divides the Jewish nation; the leadership is obsessed with itself, those in power are leading a monarchy like in the days of France's Louis XIV; the government is exploiting Israel's security for rating and allows the Qatari cash infusion into Gaza as protection racket to Hamas, in addition to using bereaved families for political needs and the list goes on according to Gantz.
Israel Resilience Party's leader mentioned Netanyahu by name only once and the context was only seemingly positive. Gantz complimented the prime minister for the Wye River Memorandum signed in 1998 between Israel and then-Palestinian Authority leader Yasser Arafat, and Netanyahu's 2009 Bar Ilan speech in which he endorsed for the first time the creation of a Palestinian state that would exist alongside Israel. Netanyahu would have been happy to forgo both compliments.
Stating he would not sit in a government whose prime minister is facing an indictment was the only issue influencing the day after the April elections that Gantz addressed. He won't be able to back down from this promise, but keeping it won't be easy.
On some levels, Gantz comes as a surprise. When he first retired from the IDF in 2010, and before then-Major-General Yoav Galant's appointment as the army's 20th chief of staff was cancelled amid the land affair, Gantz had no political ambitions. Gantz was appointed as IDF chief of staff instead of Galant In 2011, and officially concluded his tenure in 2015. Only then he began thinking about politics. However, his ambitions were relatively humble, including thoughts of becoming the defense minister, or the foreign affairs minister or even maybe education minister. Gantz had no thoughts of running for prime minister, especially not right away. After all, he is not Ehud Barak.
With some exaggeration, like King Saul, Gantz went looking for donkeys and found a kingdom, or unfortunately, the ambition to become a king.
This is not the first time that senior IDF officers decide to enter politics. When the high-ranking generals get acquainted with politicians during General Staff meetings, they feel contempt. Sometimes they pledge to never go into politics, and then, on second thought, they go into politics after they understand the political arena is where the big decisions are made and that only there will they be able to make a difference.
Those who worked under Netanyahu have issued a lot of criticism regarding the prime minister's decision-making process. They go into politics because they are convinced that as far as Israel's security is concerned, their performance would be as good as Netanyahu's and maybe even more sober, pragmatic and practical.
The less people know Netanyahu, the more they admire him. The retired generals are convinced that if they enter politics, they will make some sort of correction. They were trained to think in stately (patriotic) terms. The country is genuinely important to them and they are truly concerned about what has happened to it during the Netanyahu era.
There are countries that live in fear that a military junta will rule after taking power by force. I don't think this is the case in Israel. I mistakenly thought Gantz did not have the spark—or if you will, the hunger, the ambition, the passion—that pushes people to run for prime minister.
Perhaps I misjudged him. Maybe while compiling his party's list a spark was lit in him. There was something very moving in seeing former chief of staff Moshe "Boggi" Ya'alon, who was once Gantz's commander and now agreed to be his number 2 man on the list, joining him on the stage.
This reminds me of Charles, the Prince of Wales, who will probably not get to be the king of Britain, standing next to his son William the Duke of Cambridge, who he is expected to abdicate in favor of to inherit the throne.
Netanyahu or not Netanyahu—this is the main dilemma of this election campaign. The question of how to resolve this dilemma at the ballot box remains unsolved, and much is yet to be said about it.
For the meantime, Gantz's debut speech ended with singing the national anthem and with blue and white patriotic confetti. But this was the easy part, now begins the hard part.