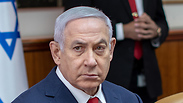 Prime Minister Netanyahu
Photo: Emil Salman
Netanyahu vows to implement law to deduct terrorists' salaries
After criticism from bereaved families and Minister Bennett, Prime Minister Netanyahu says legislation to cut terrorists' salaries from tax money Israel collects on behalf of the Palestinian Authority will be implemented starting next week.
Prime Minister Benjamin Netanyahu promised Sunday morning to quickly implement a law to deduct terrorists' salaries from tax money Israel collects on behalf of the Palestinian Authority, which was passed in July 2018, after being hit with criticism from both families of terror victims and Education Minister Nafatli Bennett.

"By the end of the week, the staff work necessary for implementing the law on deducting terrorists' salaries will be completed," Netanyahu said at the outset of the weekly Cabinet meeting.

"Next Sunday. I will convene the Security Cabinet, and we will approve the necessary decision to deduct the funds. Let nobody doubt it, the funds will be deducted starting next week," he said.

Under the new law, which was sponsored by MKs Elazar Stern (Yesh Atid) and Avi Dichter (Likud), money that would otherwise go to pay stipends to roughly 35,000 families of Palestinian terrorists and their families will be automatically frozen in accordance with the Paris Protocol—without the need for a special approval from the Cabinet.

According to the law's sponsors, the PA paid terrorists over NIS 4 billion over the past four years from its so-called "martyrs' fund," with NIS 1.2 billion (roughly $330 million) being paid in the last year alone.

The prime minister also praised security forces for capturing Arafat Irfayia, 29, from Hebron, who is suspected in the murder of Ori Ansbacher. The 19-year-old woman's naked body was found two days ago, with multiple stab wounds, in the woods at Ein Yael on the outskirts of Jerusalem.

"I would like to commend the security forces that worked with exemplary speed and apprehended the murderer within several hours. Sooner or later—in this case sooner—the long arm of Israel will reach all those who hurt us, and we will settle the score with them," Netanyahu said.

"On behalf of myself, the Cabinet and the entire people of Israel, I would like to send our sincerest heartfelt condolences to the Ansbacher family in their terrible grief," he said.

After the arrest Saturday night of Ansbacher's suspected murderer, New Right Party leader Bennett called on Netanyahu "to implement the law to deduct terrorists' salaries starting this very evening... myself and Justice Minister Ayelet Shaked commit to backing the prime minister in the Security Cabinet and working to get a majority for the vote on this matter, in the face of all international pressure."

Last week, families of terror victims criticized the prime minister for failing to implement the legislation. "Israel continues to transfer money to the Palestinian Authority every month—which goes to terrorists and their families," said a statement from the Choosing Life Forum.